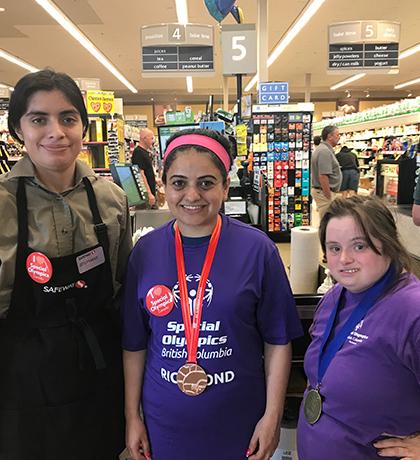 Sobeys is a proud National Partner of Special Olympics Canada. Since 2016, Sobeys has contributed more than $5.4 million in food and funds. They are committed to helping address the need for increased nutrition education and resources for Canadians with intellectual disabilities, and to empowering Special Olympics athletes to achieve healthy bodies and healthy minds.
Due to the COVID-19 pandemic, Sobeys made the difficult decision to cancel their national checkstand fundraising campaign for Special Olympics that had been planned for June 2020. To ensure this decision would not negatively impact Special Olympics athletes across Canada, Sobeys honoured its fundraising target with a $1 million donation to Special Olympics Canada.
Special Olympics BC thanks Sobeys for their astounding $1 million donation. This will help Special Olympics programs in communities across Canada return to play as soon as safely possible, renewing vital connections and opportunities for Special Olympics athletes and coaches nationwide. 
This has been an especially challenging time for the Special Olympics movement. With programs and events cancelled due to COVID-19, there is a significant loss of financial resources and athlete events. Sobeys' commitment helps ease some of the uncertainty faced by Special Olympics Canada and its 12 Provincial and Territorial Chapters.
Sobeys will continue to promote the important work of Special Olympics and help advance our mission to provide individuals with intellectual disabilities the strength, determination and confidence to take on any challenge in sport and in life.
Photo contest
Many thanks to all the entrants who helped us celebrate this incredible donation and all of the Safeway and Thrifty Foods employees who made this possible! In the week of August 17, we will announce the winners of the three $25 Sobeys gift cards redeemable at Safeway and Thrifty Foods.
About the partnership
The partnership between Special Olympics and Sobeys is a tremendous source of pride for the Special Olympics community across Canada, and for Sobeys' family of brands from coast to coast.
Sobeys' support for Special Olympics is year-round – from food donations for national and provincial events to in-kind support, fundraisers organized by local stores and a national corporate commitment.
Special Olympics athletes are employed in stores from coast to coast – helping Sobeys build a diverse and inclusive workforce.
In 2018, Sobeys launched Nutrition Sessions, focused on tools and tips to make healthier food choices, while bringing together employees, athletes, volunteers, families, and caregivers.
Sobeys held its first-ever national in-store checkstand campaign for Special Olympics in 2018 and surpassed its goal of raising $700,000. In its second year, the checkstand campaign raised more than $930,000.
Read more about SOBC – Delta athlete Scott Fattedad, a popular Thrifty Foods employee in Tsawwassen
Read more about Sobeys, Safeway, and Thrifty Foods support of Special Olympics in B.C.
Sobeys support at home
Since May, Sobeys Dietitians Rebecca and Véronique have hosted weekly Wellness Wednesdays Facebook Live sessions with Special Olympics Canada, teaching athletes how to make healthy recipes while staying safe and connected at home. 
Watch each Wellness Wednesday by clicking here!
Sobeys support at events
Sobeys, Safeway, and Thrifty Foods regularly go above and beyond to support provincial, regional, and local Special Olympics events. In the most recent of many examples, Safeway and Thrifty Foods served as Breakfast Sponsors for Polar Plunge events benefitting Special Olympics BC, and Sobeys provided essential support as a major sponsor of the 2019 and 2017 Special Olympics BC Games. 
As a Diamond Sponsor of the 2020 Special Olympics Canada Winter Games in Thunder Bay, Sobeys, through its Safeway banner, supplied healthy meals and snacks to athletes and volunteers. Their experience is captured in the below video, which includes Team BC 2020 snowshoeing athlete and Campbell River Thrifty Foods employee Ashley Adie, plus plenty of her teammates (including Aliza Eagletree, pictured in the below thumbnail)!