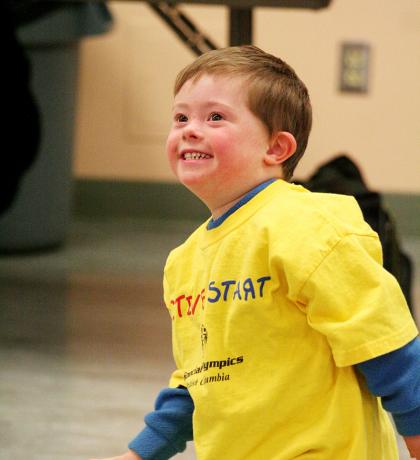 As we celebrate the 50th anniversary of Special Olympics, we are taking a look back at the #50moments that have defined the Special Olympics movement here in B.C. and throughout the world.
In the 1990s and 2000s, Special Olympics BC started working on addressing the activity challenges faced by children and youth with intellectual disabilities. Many felt left behind or isolated in traditional sport and activity programming, so they would leave those programs and find themselves less physically active and healthy. In later years, they could find their way to Special Olympics BC's world of activity, fun, and friendship through sport, but then they were at a disadvantage in abilities and health because of later starts.
So Special Olympics BC worked to develop youth programs that would give children and youth with intellectual disabilities the chance to learn vital motor, sport, and social skills in a fun and welcoming environment. In 1994, the Pee Wee program was drafted at the Provincial Program Conference, and by 2004, Locals were beginning to offer programs that cater exclusively to younger athletes' development and skill levels.
In 2008, Special Olympics BC received support from 2010 Legacies Now funding to develop the core curriculum for programs where young children with intellectual disabilities could develop basic motor and sport skills in a fun and positive environment. This led to the creation of Active Start, which teaches kids ages two to six vital motor skills, and FUNdamentals, which helps youth ages seven to 11 transition to basic sport skills in a fun and supportive environment.
In subsequent years, SOBC added Sport Start for youth with intellectual disabilities ages 12 to 18 to focus on sport-specific development.
Youth programming is part of SOBC's Long Term Athlete Development plan for young people with intellectual disabilities, aiming to get kids involved at a young age and inspire them to stay active their whole lives.
In 2008, Special Olympics BC launched our first Active Start and FUNdamentals programs, with pilot programs in SOBC – Coquitlam and North Shore. Both received enthusiastic feedback from participants, volunteers, and parents/caregivers alike.
In 2011, Goldcorp changed the game by making a four-year $1-million commitment to support youth programs, and in that period, the number of Special Olympics BC youth programs around the province more than doubled. In 2014, Goldcorp made a second $1-million donation over four years to enable further growth of those programs, as well as the establishment of new program offerings to increase opportunities for SOBC athletes to train, compete, and improve their health.
Now there are approximately 74 SOBC Active Start, FUNdamentals, and Sport Start programs running in communities around the province, offering fun, friendship, community, and activity to children and youth with intellectual disabilities ages two to 18. Special Olympics is the place where they belong and thrive, demonstrating significant skill developments while having a wonderful time in a safe learning environment.
Lower Mainland children with intellectual disabilities can give our youth programs a try at the SOBC Youth Sports Day presented by Methanex on May 11.
Five-year-old Veda Graw feels happy and proud when she walks into a Special Olympics BC – Nanaimo Active Start session.
"She absolutely loves it!" her mother Amanda Davis says. "Whenever we tell her it's Special O day, she gets so excited!"
Davis and her family appreciate how the Active Start program is a safe, welcoming place where Veda is treated with respect.
"Everyone looks at her as a friend and as an athlete, as an equal and a regular kid."
Davis says their family plans on continuing with Special Olympics BC youth programs, and when Veda gets older, they look forward to her participating in the SOBC sports that interest her.
"It's a phenomenal, fantastic organization!" Davis says.
In 2009, Special Olympics Chapters across Canada started adopting SOBC's youth programming models, and today there are Active Start and FUNdamentals programs throughout the country.
Today there are approximately 1,110 children and youth with IDs participating in youth programs and traditional SOBC sports. SOBC – Langley athletes Josh and Jaykob Low are two of a growing number of athletes who have come up through youth programming to find success in traditional SOBC programs and competitions and live a healthy lifestyle.
Josh Low endured multiple heart surgeries and survived cancer as child. He started participating in SOBC youth programs and went on to represent Canada in swimming at the 2015 Special Olympics World Summer Games. Jaykob Low followed his brother into Special Olympics as a child and went on to help his Langley team win silver in softball at the 2014 National Games.
Today SOBC is also reaching new youth through school sport competition programs. We can't wait for the third annual SOBC Vancouver Island 3-on-3 Basketball Tournament this Friday at Comox Valley's Mark R. Isfeld Secondary School!
Sincere thanks to the Government of Canada, the Government of British Columbia, Tim Hortons, the Samuel Family Foundation, The Slaight Family Foundation, and the GoodLife Kids Foundation for supporting SOBC's youth programs and opportunities throughout B.C.