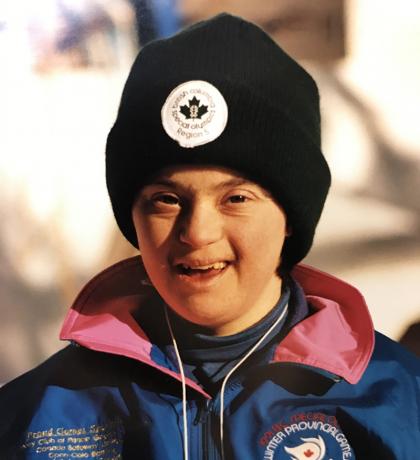 As we celebrate the 50th anniversary of Special Olympics, we are taking a look back at the #50moments that have defined the movement here in B.C. and throughout the world.
After the launch of winter sport programs in 1987, Special Olympics BC athletes were soon ready to challenge themselves with provincial competition. In 1991, Special Olympics BC hosted the first Provincial Winter Games in Prince George, featuring 450 athletes and coaches from all over B.C. coming together for exciting competition in alpine skiing, cross country skiing, figure skating, floor hockey, snowshoeing, and speed skating. 
Reports indicate that the athletes did extremely well on the slopes, at the rink, across the trails, and in the gym. The amount of training that they put in prior to these Games was evident, and the athletes and coaches were commended for their commitment. 
The Prince George Games volunteers demonstrated remarkable enthusiasm and support, making the experience a joy as there were so many volunteers everywhere ready to spring in and help on a moment's notice.
These inaugural Provincial Winter Games were the qualifier for the 1992 Special Olympics Canada Winter Games in Saskatoon. Thirty-five athletes from 15 SOBC Locals, supported by 13 coaches and four mission staff, qualified to represent our province in five winter sports. Fun fact: Out of that group, seven of those athletes are currently gearing up to compete in the 2019 Special Olympics BC Winter Games! (Although some of them have changed sports since the 1991-92 competitions!) These athletes are: Brian Whitfield of SOBC – Prince George, Kathy Davis of SOBC – Victoria, Paul Aubuchon of SOBC – Campbell River, John Griffioen of SOBC – Kimberley/Cranbrook, Ryan Courtemanche now of SOBC – Kelowna, Neil Melesko of SOBC – Kelowna, Glen McCord of SOBC – Nanaimo, and Pauline Shaw of SOBC – Victoria. Kudos to these athletes proving Special Olympics sports are great for lifelong involvement!
The 2019 SOBC Winter Games will be our largest Provincial Winter Games yet, with more than 800 athletes, coaches, and mission staff from all over the province coming together in Greater Vernon to compete in eight sports and inspire everyone watching. Learn more at sobcgamesvernon.ca.