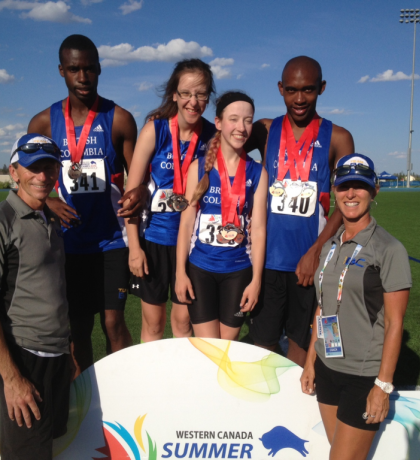 As we celebrate the 50th anniversary of Special Olympics this year, we are taking a look back at the #50moments that have defined the Special Olympics movement here in B.C. and throughout the world.
By the late 1980s, Special Olympics BC was making a name for itself in the world of sport. Despite only being established for a little under a decade, SOBC athletes had already demonstrated their incredible dedication, passion, and skills, and were being recognized and welcomed at sport events outside the realm of Special Olympics.
The 1989 BC Winter Games was one of the first sport competitions to feature Special Olympics BC athletes. Held in Penticton, 48 floor hockey athletes and 12 coaches from SOBC took part in this well-attended event from February 15 to 18. This was the first time that Special Olympics floor hockey was recognized as an official sport within the BC Winter Games, and paved the way for Special Olympics sports to be an integral and ongoing aspect of both the BC Winter Games and BC Summer Games.
Later that year, SOBC – Campbell River's Dave Denison wowed members of the British Columbia Powerlifting Association (BCPA) at a Special Olympics BC powerlifting meet in November 1989. Just a few months later, Denison was invited to become an official member of the BCPA and compete at one of their meets in January 1990, where he deadlifted an incredible 375 pounds!
Denison wasn't the only SOBC athlete to step into the world of generic sport that year. In July 1990, four SOBC athletes were invited to compete at the Goodwill Games, an international multi-sport event held in Seattle during the summer of 1990.
The Goodwill Games competitors were SOBC track and field athletes Sue Ann Clark, David Marsters, Lori Urban, and Steven Seminuk. The team travelled to Seattle ahead of the Games and marched into the Opening Ceremony alongside fellow Special Olympics athletes. They spent the next two days practising with Special Olympics Washington athletes. On July 25, Clark and Urban competed in the 100-metre races, and Marsters and Seminuk competed in the 400-metre races. These exciting events were internationally televised, allowing viewers at home and around the world to cheer on these impressive athletes.
Just a few years later, SOBC figure skaters had their first opportunity to take part in generic sport at the 1994 Sunlife Provincial Sections Figure Skating event. Here, eight athletes and four coaches travelled to Kelowna to take part in this two-day competition, where SOBC athletes performed to their best and were celebrated by the many supporters and spectators in attendance.
These early competitions helped put Special Olympics athletes in the spotlight. Today SOBC athletes are frequently recognized for their skill and passion at local, provincial, national, and international sporting events, where they continue to break down stereotypes and share their incredible abilities with the world.