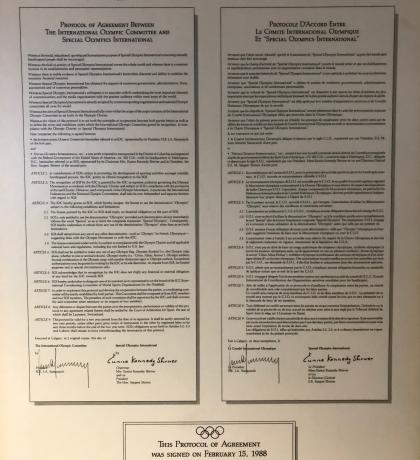 As we celebrate the 50th anniversary of Special Olympics, we are taking a look back at the #50moments that have defined the Special Olympics movement here in B.C. and throughout the world.
In February 1988, representatives for the International Olympic Committee and Special Olympics International came together in Calgary to sign a historic document. In the Protocol Agreement signed February 15, 1988, the International Olympic Committee endorsed and recognized Special Olympics Inc. to promote sporting activities for individuals with intellectual disabilities.
Officially inked at the 1988 Olympic Winter Games in Calgary, the agreement recognizes that the "social, educational, sporting, and humanitarian purpose of Special Olympics International concerning individuals with intellectual disabilities shall be encouraged."
The protocol remarks that Special Olympics covers the whole world, has a noted benevolent character and significant support, and is readily accepted by numerous sporting organizations and national Olympic committees all over the world.
Special Olympics and the International Olympic Committee are separate and distinct organizations, but this recognition of SOI by the IOC carries with it the responsibility to conduct Special Olympics training and competitions in accordance with the highest ideals of the international Olympic movement.
View the full protocol agreement
Learn more about the difference between Special Olympics, the Olympics, and the Paralympics