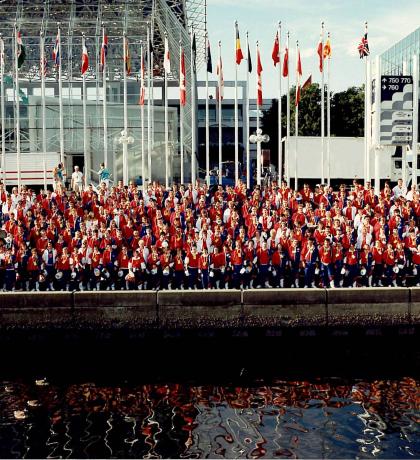 As we celebrate the 50th anniversary of Special Olympics this year, we are taking a look back at the #50moments that have defined the Special Olympics movement here in B.C. and throughout the world.
One year after the first Special Olympics Games in Chicago, Illinois, Special Olympics Canada held its own inaugural National Games.
Harry "Red" Foster, the iconic Canadian broadcaster and champion of the Special Olympics movement, was the chairperson for the first Special Olympics Canada Games, which were held in Toronto, Ontario, in June 1969. A total of 1,400 Canadians competed in floor hockey, aquatics, and athletics.
Foster and Special Olympics icon Dr. Frank Hayden were part of the Canadian contingent that travelled to Chicago a year earlier to participate in the first Special Olympics Games in Chicago. Hayden's ground-breaking research joined with the efforts of Eunice Kennedy Shriver to form a foundation for the creation of the Special Olympics movement.
Though the 1969 Games were Canada's first national Special Olympics competition, they had an international flavour. The National Hockey League provided significant support as its 12 teams sponsored the floor hockey teams from NHL cities, 10 of which were located in the U.S. The Special Olympics Canada Games were also attended by Shriver, along with along with Honorary Games Chair Clarence Campbell, NHLers Dave Dryden and Bobby Rousseau, and other dignitaries.
Foster was instrumental in changing attitudes and perceptions about Canadians with intellectual disabilities. Foster, whose brother was blind and had an intellectual disability, campaigned for the establishment of Canadian research centres to study the causes of intellectual disabilities and develop training programs for those with disabilities.
When the Games concluded, organizers knew that the ground had shifted and the effort to secure the rights and dignity of people with intellectual disabilities was taking root in Canada and around the world.
Today, the Special Olympics Canada Summer and Winter Games see athletes with intellectual disabilities from coast to coast competing with pride on the national stage, pushing themselves to train hard in their year-round Special Olympics programs in order to deliver personal-best performances and chase spots on Team Canada for the Special Olympics World Games.
The next Special Olympics Canada Games will be the 2020 National Winter Games set to be held in Thunder Bay, Ontario, next February. Meet the Team BC 2020 Training Squad