As we celebrate the 50th anniversary of Special Olympics, we are taking a look back at the #50moments that have impacted the Special Olympics movement here in B.C. and throughout the world.
People with intellectual disabilities need to have the same rights as everyone else to take part in politics, political life, and voting. In the late 1980s and early 1990s, Canada took some big steps in the right direction. 
In Canada, every citizen 18 years of age and up on election day has the right to vote. But until 1993, the Canada Elections Act said a person who was "restrained of his liberty of movement or deprived of the management of his property by reason of 'mental disease'" could not vote.
In 1993, the Canada Elections Act was amended to reflect that court decision, eliminating all passages that excluded people with intellectual disabilities from casting their ballot. Please click here to read more from Elections Canada.
According to a 2004 study, Canada was one of only four countries – Canada, Ireland, Italy, and Sweden – that have no federal restrictions on the right to vote for people with ID. Spain joined the team this spring.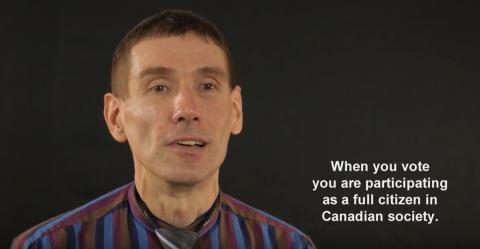 Today, self-advocates throughout B.C. and Canada are making sure the voices of individuals with intellectual disabilities are heard and counted. Self-advocates like Alexander Magnussen and Bryce Schaufelberger have helped lead the I Am Voting campaign, a project headed by the UBC Centre for Inclusion and Citizenship with Inclusion BC and many self-advocate and Community Living partners. The I Am Voting campaign aimed to ensure that all British Columbians with disabilities can participate fully in election activities and vote.  
"I just think it's amazing," Magnussen told CBC News before voting in his first provincial election in 2017. "I take it very seriously. We held a candidates' meeting. I just think it's super important. I'm looking forward to it. I think everyone should vote. Who are we to decide who is cognitively able to and who is not?"