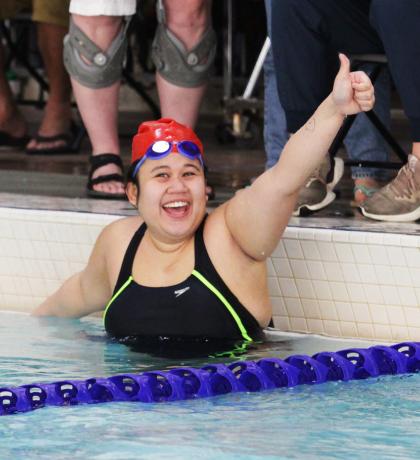 The first Regional Qualifiers of 2020 were a big success for Special Olympic BC athletes across the province. These competitions highlighted the significant growth in many Regions, marking some exciting firsts across British Columbia. You can find photos from the 2020 Regional Qualifiers here.  
The SOBC Region 3 10-Pin Bowling Regional Qualifier started the season off right on January 11 in Surrey, with lots of energy from both the athletes and the spectators in attendance. The high spirits and displays of skill carried on through to the SOBC Region 4 & 5 10-Pin Bowling Regional Qualifier hosted by SOBC – North Shore on January 18.
Switching gears, we saw athletes powering down a different type of lane giving everything they had at the SOBC Region 4 & 5 Swimming Regional Qualifier on January 26 at the SFU campus in Burnaby. The deck was lined with athletes cheering on other competitors, showing that camaraderie has a place alongside competition.  
In the SOBC Region 2, 3, 4, & 5 Powerlifting Regional Qualifier hosted by the British Columbia Powerlifting Association on February 15, athletes pushed themselves hard, displaying incredible strength and mental fortitude. Many coaches at the event were overcome with emotion, shedding tears of pride watching first-time competitors take on this challenge. You can witness the energy and encouragement in a recording of this event here.  
On February 29, the SOBC Region 6 Rhythmic Gymnastics Regional Qualifier took place in Cowichan Valley. There was a dazzling display of finesse and athleticism, framed by the smiles and support of everyone in attendance! SOBC athletes put on a fantastic show and the energy they brought to their routines was truly contagious.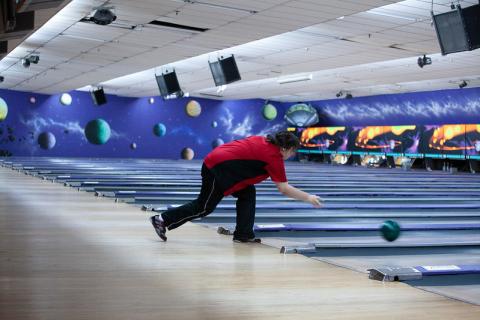 Rounding out the start of the Regional Qualifier season on March 6 and 7, the SOBC Region 2 Basketball Regional Qualifier in Kamloops showed teamwork makes the dream work. The significant growth Region 2 has experienced in their basketball programs meant that this was the first time that they were able to host their own basketball Regional Qualifier. SOBC – Kelowna put forth two teams, Kamloops three, and Penticton and Vernon both brought one team each for a total of seven teams. This exciting first highlights the importance of sport to communities around the province as we continue to grow. 
In April, Special Olympics BC made the difficult decision to cancel the remainder of the 2020 Regional Qualifier season, due to the ongoing necessary health actions and related facility closures. 
This is disappointing for everyone. But after discussing the feedback we have been receiving, it feels necessary to make this decision now. 
We don't want anyone to feel anxiety about training for and organizing these important competitions, when we're all compromised by a situation beyond anyone's control. And in the reduced time available to us all, it won't be possible to host and train for all the necessary competitions in a way that would be fair to everyone.
In fall 2020, we will announce the new selection process for the next Special Olympics BC Summer Games. We will be consulting widely in B.C. to discuss opportunities and possibilities, and we will stay aligned with other provincial and territorial Special Olympics Chapters.
We congratulate all the athletes who trained hard to compete in Regional Qualifiers, and we sincerely thank all the coaches, volunteers, families, and supporters who put so much time and effort into organizing these important competitive experiences. Thank you all for your patience and understanding.
Please click here to find resources to help stay active, connected, positive, and informed at home