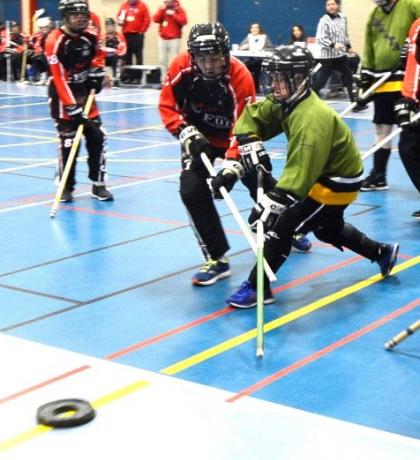 In 55 communities throughout our province, life-changing and heart-expanding Special Olympics BC sport, youth, and fitness programs run year-round, with more than 5,200 amazing athletes with intellectual disabilities and 4,300 inspiring volunteers, supported by vital sponsors. 
Several volunteers and athletes graciously took the time to share reflections on 2019 from their communities! Please click here to find more stories in the full SOBC year-end newsletter. 
News from SOBC – Sunshine Coast
By Athlete Reporter Mike Oswald
2019 can be summed up with WOW! From gold at the World Games to Special Olympics BC – Sunshine Coast turning a quarter of a century young, to our first winter sports team attending Provincial Games, 2019 was full of accomplishment. 
The Sunshine Coast Polar Bears Curling team competed at the 2019 Special Olympics BC Winter Games in Vernon in February. Darlene Nelson, Shelley McCuaig, Wes Harrison, Bruce Stuart, and Head Coach Pat Stuart had an exciting time.
In March, Genny Verge of the Orcas swim team returned from the 2019 Special Olympics World Summer Games in Abu Dhabi (the year's largest sports and humanitarian event in the world) with THREE gold medals. She even garnered herself a mention from MLA Nicholas Simons in the Legislature.
In May, SOBC – Sunshine Coast turned 25! At a BBQ cooked by Gibsons Firefighters, Program Coordinator Pat Stuart highlighted our illustrious history with stories about the first Provincial Games attended by our first sports team, bowling, in 1998. Lance Leeson and athletes Jordan McCourt and Jamie Karliner of The Pink Trouts performed some great songs, and DJ Micheal O played some summer hits.
On the Special Olympics Global Day of Inclusion, July 20, Tim Hortons and Special Olympics joined forces. At both Sechelt and Gibsons locations, many customers stopped to buy the special donut. Wanda Monosky, owner of the Sechelt location, is a supporter of Inclusion, especially when she let us help make the donuts. 
On July 6, Gibsons and Sechelt teams took part in the Fourth Annual Daniel Kingsbury Basketball Tourney. The Sechelt Ravens (Destiny Wallbaum, Dustin Archer, Mike Brooks, Brandon Lacey, and Chris Walker, played against the Gibsons Grizzles (Sam Fitzgerald, Amber Maher, Bruce Stuart, Wes Harrison, and Amanda Boghean). It was organized by Vicki Dobbyn, friend of Pat Stuart.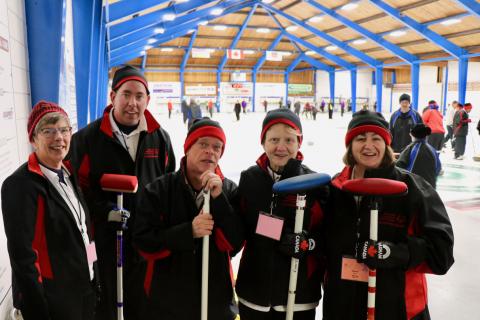 At our summer Annual Meeting, SOBC Community Development Coordinator Chelsea Rogers and Region 5 Coordinator Darren Inouye congratulated Sam Mladic and Darren Lane for five dedicated years; Tania Finnigan, Randy Younghusband, and Robert Wotton for 10 wonderful years; and Pat Stuart, Allyson Pearson, and Jeannie Barwise for 15 magnificent years.
Coach Mike Gojevic was celebrated for his campaign for organ donation. He himself is a lung transplant recipient and also competed in the transplant games where he picked up some hardware!
SOBC – Sunshine Coast thanks Bill Climie, our 10-year curling coach who retired from the sport after an illustrious 65 years.
In September, 18 members of the Douglas College Royals women's basketball team and Assistant Coach Hanna Klassen hosted an annual basketball camp. Twelve athletes from Sechelt and Gibsons participated with coaches Randy Younghusband, Dave Thomas, and Sam Mladic.
In November, the Orcas hosted the Third Annual Inclusion Swim Meet with Chinook Swim team. Head Orca Coach Cathy Verge reports, "It's always fun when we can get athletes of all ages and abilities together and give them the opportunity to compete. Our athletes swam well and it was wonderful to see our newest swimmers participating."
Laurie Miller moved to Nanaimo after many years on the Coast coaching both soccer and basketball. For her final game on December 6, the Gibsons basketball team played a great game with the Gibsons firefighters. As Laurie put it, "When one door closes, another one opens." She says she will always remember "all the fun I've had and all the friends I have made through Special O." Does her future involve SO? "Yes, there is a Nanaimo Association For Community Living and that will be my connection."
Cam Paterson, former Special Olympics coach of both softball and floor hockey in North Vancouver,  now co-owner with his wife of Crazy Red's Bread, donated to SOBC – Sunshine Coast after holding a gingerbread raffle!
Special O is also grateful to Owen Gillstrom from the Rusty Cranks Old Timer Hockey Players, who presented a generous donation to our floor hockey and curling programs.
Our Winter Banquet in Sechelt was great as per usual. Yummy dinner prepared by Chef Greg Petula wowed everyone. Thanks also to Jordan McCourt and Paul Lith for their donations! Santa came and delivered the goods. The night closed with a dance with music prepared by DJ Mike O.
News from SOBC – Abbotsford
Celebrating longtime athlete Henry Lenzmann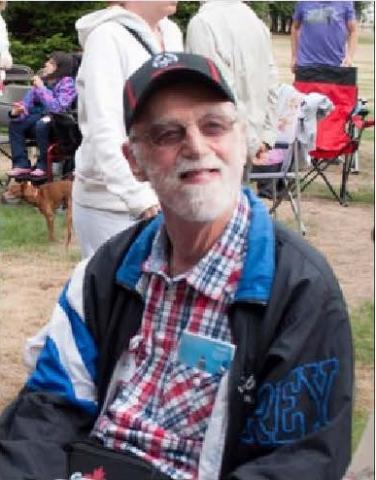 Henry Lenzmann was one of the original Special Olympics BC – Abbotsford athletes, and an icon in his community. He was an active athlete for three decades, and was much admired throughout his programs. This fall, Henry turned 73 and decided to retire from Special Olympics, and his Local wanted to honour him!
Henry's love of Special Olympics is well known. He was a very kind and social athlete who paid close attention to who was involved in practices each week, especially the coaches. Henry participated in 5-pin bowling years ago, but his favourite sport has always been floor hockey. 
During his long Special Olympics floor hockey career, he travelled to tournaments and years ago, he was very impressed with the visit from a famous hockey player who came to a local practice. Scoring was Henry's main focus when playing floor hockey. He loved to score goals! He also loves to watch NHL hockey on TV and likes to "coach" the teams from the comfort of his living room. :)
Henry has a brother, Alvin, who is four years younger and who also was an athlete with Special Olympics. Alvin is more interested in music, and Henry is the athlete of the family. These two men have had the good fortune of living with their younger sister, Susan, for the past 28 years. 
Although he has loved being involved with sports in Special Olympics, Henry never wanted to be the centre of attention himself. He is a kind, gentle man with a booming voice, but prefers to have the spotlight shine on other people. But this time, his Local wanted to celebrate him, and many people have many warm regards to share about him, including the following.
From coach Vince Astoria:
I first met Henry Lenzmann over 30 years ago when I volunteered for a community swimming program at our local pool. You knew when Henry was around as his booming voice would echo all around the pool deck. He was always kind and helpful to his more timid program participants. 
We crossed paths again when Henry joined the Abbotsford soccer program that I coached. He was a valued member of the team for many years and always tried his best in competitions. His gentle nature was sometimes overshadowed by his size and that booming voice that often sent opposing players in the opposite direction when he challenged for the ball. 
Everyone loved Henry and he made many friends over the years in all his sports. He participated in fundraising events as well including the LETR Police Run which he ran many times. He was one of the oldest runners and always finished with a big smile.
Henry would pick you out of the crowd at any event he was at and give you a warm and loud hello. I'm proud to call Henry a friend, and send best wishes to him and his immediate family.
From coach and SOBC – Abbotsford founder Edna Clifford: 
Henry is an original athlete. He can always be counted on for his enthusiasm and friendly nature. He and Ron had a special relationship because they are the same age and they always were sitting together at those early track meets; every time I see Henry, he politely asks how Ron is.  Henry has attended every Police Run since Special Olympics started participating. He has won a few medals for his participation. He is always there with his sister Sharon, who is a great supporter. It's so nice to hear you are honouring him. 
From Local Committee member Shelley Maximitch Johnston: 
Henry is an inspiration to and role model for every Special Olympics athlete, because of his resilience in the sports. I saw him regularly at floor hockey, but only watched him play. Very much a team player and supportive of his teammates. He was wonderful to Austin, my son, when he started at floor hockey. His sister has also done an amazing job of supporting her two brothers!
News from SOBC – Langley
Special Olympics Leadership programs build skills and confidence to win at life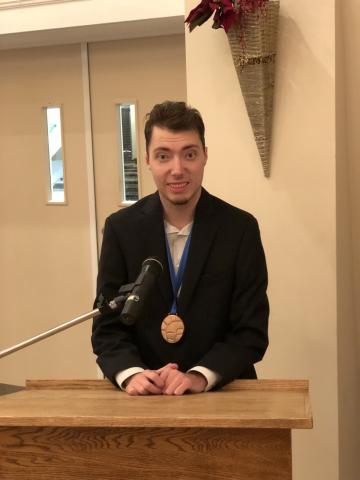 Through SOBC Athlete Leadership programs, athletes develop the skills and abilities to take leadership positions in a number of roles including public speaking, athlete and volunteer recruiting, sitting on Local Committees, assisting with fundraising, and acting as peer mentors at sport programs. SOBC recognizes that leadership comes from within and that is why the Athlete Leadership programs were created, to help athletes maximize their potential and confidence on the playing field of life.
Langley athlete Christian Burton has completed the Athlete Speakers Bureau program and applied all the skills that he has learned to promote SOBC in Langley. As a Langley athlete, he has really taken to heart the need to give back to his Local.
In Christian's words:
"Special Olympics has changed my life. It is very difficult to play sports and make friends when you have an intellectual difference. I didn't play sports at school because I was not included. As soon as I joined SO, I immediately had many new friends, and people who accepted me for who I am.  My confidence is at an all-time high because of the public speaking I have been able to do for SO. I am proud to tell people about Special Olympics and feel really great if I have been able to recruit an athlete or volunteer."
SOBC – Langley has received over $5,600 in donations in 2019 as a result of two keynote speeches that Christian gave. He has also been actively involved in the Sobeys and Staples campaigns, always willing to help.
Christian feels passionate about "spreading the word to end the word" and has spoken to several school groups in Langley about the importance of not using the R-word. As well he did a presentation at a Langley high school on Pink Shirt Day to spread the word to end the word.
Christian has spoken to TWU and KPU on numerous occasions to help recruit athletes and volunteers into Langley programs. 
He has been invited to do a presentation to the Langley School District Special Education teachers in 2020, discussing Special Olympics programs and requesting their help in recruiting new athletes.
Christian is proud to sit on SOBC – Langley's Athlete Council, the Langley Human Dignity Coalition, and committees for Inclusion Langley Society and Community Living BC. Christian is also the Co-Administrator for SOBC – Langley's Group Facebook Page.  
He is looking forward to many more years participating in his sports, enjoying time with his Special Olympics friends, and supporting the organization in any way that he can.
News from SOBC – Quesnel 
By Rick Prosk, Program Coordinator
Another year has zipped by. It was a busy one. A year ago at this time, our largest-ever Provincial Winter Games team was training in preparation for February. Once the Games were finished, Quesnel's success defied the odds.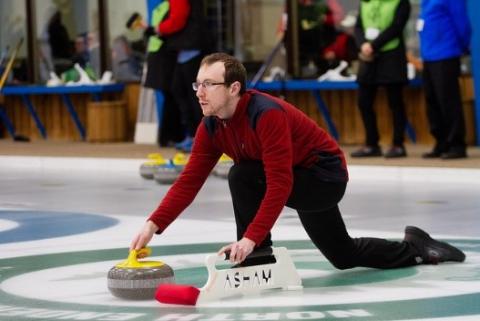 Our curling team, the Ti-Cats, despite having only three members, finished second in the 'A' division, thanks to great leadership and shot-making from its skip, Brock Terlesky. Our snowshoers medalled, despite adverse weather conditions. And our floor hockey team, the Fury, finished with a hard-fought gold medal, ending its tournament in a three-way tie, and winning through the tie-breaking procedure. This success can be attributed to outstanding teamwork from players whose abilities run the whole gamut.  With the support of two Prince George athletes, the team battled hard in very physical contests. The team was subsequently recognized at a senior men's playoff hockey game. Competitively, this result was the high point of 2019.
Our summer sports programs – soccer, track, and golf – had good participation. We sent two soccer teams to a tournament in Abbotsford. Our track team, the largest and youngest we've ever had, participated in the second annual joint meet with the local high school track team. As well, there were outstanding performances at track meets in Burnaby and Kelowna.  
In September, we hosted our sixth annual golf tournament with participation from Prince George and Fort St. John, and this year, hit the road to play in an event at the Big Horn Golf Club in Kamloops. As well this summer, we initiated a Fit Families & Friends program that ran twice a week.
As we wrap up 2019, our Local Committee is working hard to maintain programs despite declining enrollment. We continue to offer 12 competitive sport programs, including alpine and cross country skiing, snowshoeing, floor hockey, basketball, swimming, 5-pin bowling, curling, Club Fit, and rhythmic gymnastics in a very busy fall and winter season.  
In addition, we have morphed our athlete committee into an Athlete Input Council, and will restart a monthly cooking program in the new year. With our main competitive rivals in Prince George, we travel frequently back and forth, and travel further afield in order to have our sports programs compete at least once a year.  
To fund our initiatives, we have excellent support from the community with small and large, often unsolicited donations being offered. The athlete committee has organized a very successful fundraising event every year in May, and we are currently in the midst of our ninth annual ticket raffle, hoping to raise over $15,000 in a two-month time span.
News from SOBC – Revelstoke 
By Courtney Kaler, Local Coordinator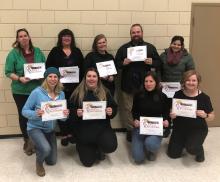 Special Olympics BC – Revelstoke has had a very successful 2019! From implementing new programs like floor hockey and bringing back the bocce program, to fundraising with Purdys and hosting the first-ever Revelstoke LETR Polar Plunge, the athletes and Local Committee members have been very busy. 
SOBC – Revelstoke continues to work hard and implement new programs, hoping to try powerlifting and golf this season. Most recently, the SOBC – Revelstoke Local Committee members and one coach were recognized for their incredible volunteerism within the community with the Spirit of Revelstoke Volunteer Award.
News from SOBC – Surrey
By Jennifer Benjamin, PR Coordinator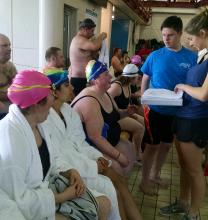 End of an era … For a quarter of a century, SOBC – Surrey has held a Sunday swimming program from 5 to 6 p.m. every September to March at the North Surrey Recreation Centre. When the North Surrey Pool is demolished in December 2019, it will be the end of an era.
We have had many wonderful coaches and volunteers throughout the years, and many athletes have learned skills, trained hard for competitions, and enjoyed exercising with their friends! We thank you all for the great memories!
On January 5, 2020, we will move to the Surrey Leisure Centre at 16555 Fraser Highway – same day and time – Sundays at 5:00 pm. See you there in 2020! We will find out in spring 2020 where our program will be next year! Stay tuned!
News from SOBC – Victoria
Newsletters by Andrea Boyes, PR Coordinator
SOBC – Victoria has shared the links to their terrific digital Grapevine newsletters:
News from SOBC – Williams Lake
By Monique Goward, Local Coordinator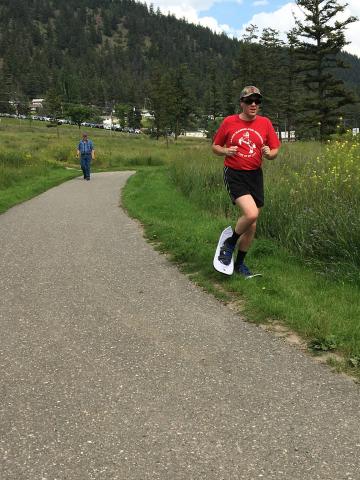 Good news for athlete Ian Stafford! He was honoured by our local radio station as Athlete of the Week. He was recognized for his dedication to his sport, training, attendance, and sportsmanship. He has set personal bests and placed in the top three in many of his competitions. Well done, Ian!
In September Ian also completed Levels 1 and 2 of ChiRunning with Angela James from North Vancouver, who ran the clinic in Williams Lake.  The feedback from her was that it was a treat having Ian there. Any concerns of combining recovering and paid runners and a young man with developmental disabilities were laid to rest. Ian is a great distance runner who also participated in the Horsefly 10k fun run in July.
Ian's dad, Fred, is Volunteer of the Year and is so very helpful anytime his work schedule permits. In October, Ian went to Bull Mountain, where we practice on groomed runs, to volunteer for trail/park clean up. His new athlete norm is giving him much positive exposure in the community and area. 
Austin Weber has not only qualified for the Special Olympics Team BC 2020 Training Squad in his sport of snowshoeing, he has also joined the SOBC Speakers Bureau and the Willams Lake Toastmasters. We honour him for his many accomplishments since becoming a competitive Special Olympics athlete in 2017.