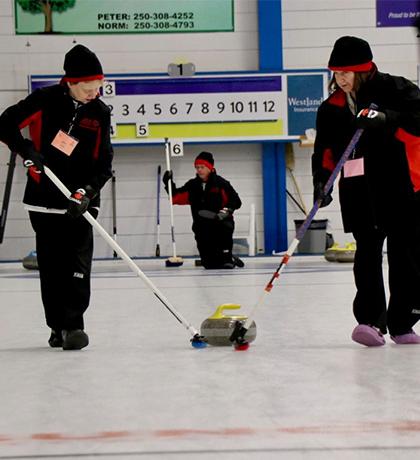 Shelley McCuaig says the most important part of being a Special Olympics BC athlete is having fun.
The SOBC – Sunshine Coast athlete competed in curling in February's 2019 SOBC Winter Games, and said it was a great opportunity to spend time with her teammates and make new friends.
"I was really nervous – but I was having fun!" she said.
The event in Greater Vernon marked her first time competing in Provincial Games, and McCuaig said she really enjoyed travelling to a place she had never been before. McCuaig said it also made her very happy that some of her friends and family made the trip to see her curl.
McCuaig curled on a team with Wes Harrison, Darlene Nelson, and Bruce Stuart. This was the first time Special Olympics BC – Sunshine Coast athletes had competed in SOBC Winter Games, and the curling squad got to carry the Region 5 banner into the Opening Ceremony.  
After the ceremony, McCuaig had family members text her to say they had seen her on TV. 
"It was cool!" she said. 
Another Provincial Games highlight for McCuaig was the Closing Ceremony, which included a dance. She says it gave athletes opportunities to meet new people and celebrate their accomplishments.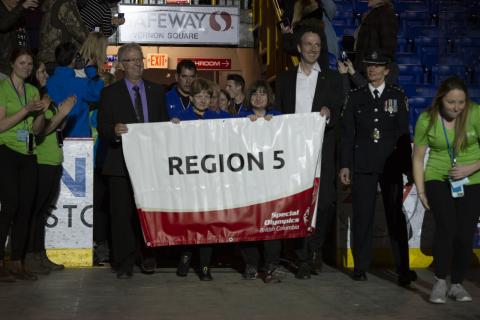 SOBC – Sunshine Coast Local Coordinator Pat Stuart coached the team in Vernon. She says McCuaig is a skilled, experienced curler and a valuable member of the squad. 
"She is a great teammate who is always helpful and caring," Stuart said. "She is very calm and cool under pressure."
McCuaig says her coaches are very supportive, and they have taught her a lot about technique. McCuaig says this has helped her really improve as a curler over her time with SOBC.
"I am happy with myself," she says.
An SOBC athlete of almost 15 years, McCuaig says her favourite thing about Special Olympics is it gives her opportunities to spend time with her friends and meet new people. McCuaig says she has made a lot of friends through SOBC – Sunshine Coast, and that makes her feel good. 
Outside of SOBC, McCuaig works multiple jobs and also does volunteer work. She says SOBC has helped her develop confidence and social skills that have served her well in these roles. 
McCuaig has a teenage son named Teagon who comes out to cheer on the curlers at Saturday practices. McCuaig says working her jobs, taking care of Teagon, and participating in Special Olympics keeps her pretty busy, and she really enjoys that. 
For her future with SOBC – Sunshine Coast, McCuaig looks forward to doing more curling, having fun, and spending time with her friends.