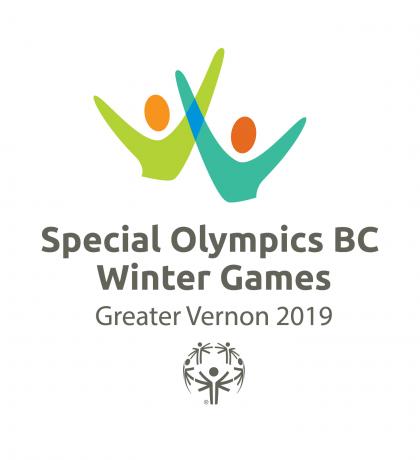 The 2019 Special Olympics BC Winter Games in Greater Vernon are one month away! More than 600 athletes all over the province and the Yukon are training hard to be in top form at the biggest SOBC Winter Games to date, coming February 21 to 23. 
Volunteers are still needed to be part of this rewarding experience! With more than 800 athletes with intellectual disabilities and volunteer coaches and mission staff from across the province set to converge in Greater Vernon for this inspiring event, the 2019 SOBC Games will need more than 800 volunteers to create a high-quality experience for the participants.
Currently the SOBC Games volunteer count is just over halfway there, with more than 400 volunteers registered to date, so all those interested in being part of this empowering event are encouraged to sign up today. There is a wide range of rewarding roles available, ranging from sport and food services to transportation and security. Particularly being sought are floor hockey referees (Special Olympics floor hockey training can be provided) as well as volunteers with medical and health-care backgrounds – such as nurses, Licensed Practical Nurses, and care aides – who are needed for specific roles.
To register, please click here to complete the form online, or visit the 2019 SOBC Winter Games office, located in Vernon at VantageOne Credit Union, 3108 33 Avenue (The entrance to the office can be accessed using the VantageOne Leasing entrance, located on 31st Street.) If you have any questions or would like more information, please contact the SOBC Games office at games@specialolympics.bc.ca or call 236-426-0109.
Provincial Games are exciting and empowering experiences for Special Olympics athletes. For many, these Games offer their first opportunity to experience the joy of travelling and being part of a team. The dedicated competitors will be shooting for personal-best performances, and they will also be chasing the opportunity to advance to national and international levels of competition. Top performers in Greater Vernon will qualify for spots on Team BC for the 2020 Special Olympics Canada Winter Games in Thunder Bay, Ontario, which will be the national qualifier for the 2021 Special Olympics World Winter Games in Sweden. 
The 2019 Games will feature exciting competition and inspiring displays of sportsmanship in the eight SOBC winter sports: 5-pin bowling, alpine skiing, cross country skiing, curling, figure skating, floor hockey, snowshoeing, and speed skating. The Opening Ceremony will be held on February 21, followed by competition throughout February 22 and 23. A Closing Ceremony open only to Games participants will be held on February 23, followed by a volunteer recognition breakfast on February 24. 
Greater Vernon is already home to outstanding Special Olympics athletes, volunteers, and programs, as SOBC – Vernon runs 16 year-round sport, youth, and fitness programs, but this will be the first time that SOBC Provincial Games have been hosted here!
"I'm excited about the Games and will give it my best!" says SOBC – Vernon cross country skier Dominique Borgeaud.
Learn more at www.sobcgamesvernon.ca and find SOBC on Facebook and Instagram @specialolympicsbc and Twitter @sobcsociety; the Games hashtags are #SOBCGames #GreaterVernon2019.
Sincere thanks to sponsors
SOBC is very grateful to all of the sponsors who have stepped forward to help create life-changing experiences through these Games:
Platinum Sponsors
Gold Sponsors
Bronze Sponsors
Media Sponsors
Healthy Athletes Sponsor
Volunteer Brunch Sponsor 
Friends of the Games
BC Tree Fruits
Geo Earth Mapping
Monashee Surveying and Geomatics
Halina Centre
Innov8 Digital Solutions
SunRype
Vernon Toyota
Watkin Motors Ford
Draft an Athlete Donors
Alpha Gamma Chapter of Kappa Beta Gamma
Ernst & Young
Fraternal Order of Eagles Aerie 2101
Integral Accounting Inc. CPA
KPMG
Michael and Cherald Tutt
RE/MAX Vernon
Royal Canadian Legion #83
Royal Canadian Legion #239
Summit Financial Planners
UPS Canada