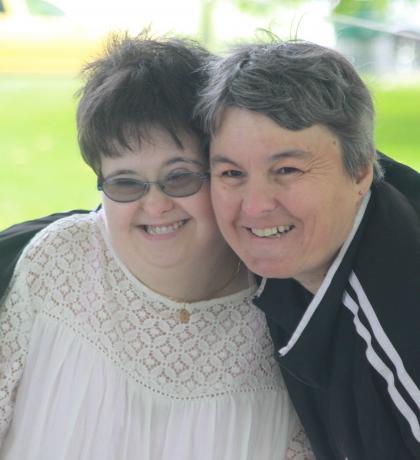 An inspiring leader and role model, Kerri Lipsack is a valued member of Special Olympics BC – Oceanside.
"As one of our longest-serving athletes, she is a model of the benefits of an active lifestyle and an example of the opportunities Special Olympics offers for as long as an athlete wishes to participate," says SOBC – Oceanside Program Coordinator Barbara McLeod. "She is happy to welcome new athletes and families to our Local and to talk to them about the value of Special Olympics in the athletes' lives. We can always count on Kerri to take on any role asked of her and to help organize activities. She loves taking on leadership roles."
Lipsack has been an SOBC – Oceanside athlete for more than 20 years and participates in eight of the Local's nine sports. Lipsack says her favourite sport at the moment is golf, because it is new to SOBC – Oceanside.
Lipsack first learned about Special Olympics when she moved to the Parksville area. She said joining SOBC – Oceanside helped her make friends in the community, and she felt welcome right from the first practice.
"I was like 'OK, this is something I want to do,'" Lipsack said. "I have enjoyed it so much because I've had so many good accomplishments along the way."
Lipsack serves on SOBC – Oceanside's Athlete Council. She says the council is important because it ensures athlete ideas and perspectives play a role in the direction of the Local.   
"It really feels good because it's a new experience," she says. "It's a lot of fun to be with my friends on the council."
One of Lipsack's most memorable moments was earning five medals at the 2006 Special Olympics Canada Summer Games in Brandon, Manitoba.
"It made me feel really good and very proud," she said.
Lipsack says travelling for competitions is one of her favourite things about being an SOBC athlete, because she loves spending time with her teammates.
"It makes me feel good because we are all friends and like to hang out with each other."
Another big accomplishment for Lipsack was delivering an inspiring speech at SOBC – Oceanside's golf fundraiser in June. This was her first time speaking to a large audience, and the crowd of more than 120 people gave Lipsack a standing ovation that made her feel happy and proud.
"I love Special Olympics because it's a lot of fun, I get to be with my friends, I love to compete, and I like being active and healthy. It gives me opportunities to travel, learn new sports, make new friends, and support other athletes," Lipsack said in her speech.
Outside of Special Olympics, Lipsack has been working with the Salvation Army for 17 years. In her job, she prices items and puts merchandise out on the sales floor. She says the confidence and social skills she has developed as an SOBC athlete have helped her succeed in her job.
"Special Olympics has made me more confident in myself and what I can do and achieve!"
Lipsack is the skip on the SOBC – Oceanside curling team that has qualified for the 2019 Special Olympics BC Winter Games in Greater Vernon. She is looking forward to training with her team for the event, and her dream is that the SOBC – Oceanside squad can continue on to National Games, then World Games.