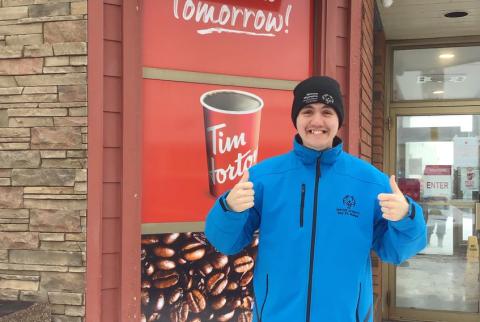 The Zoom calls are fine with Jesse Renouf.
As a member of the Bay St. George chapter of Special Olympics NL, the 24-year-old enjoys hopping on a call to play bingo and interact virtually with one of his friends from the club.
However, there is something else Renouf would rather be doing and that's heading to the YMCA in his hometown of Stephenville with his friends and coaches for any of the several sports that he plays.
Renouf has been a part of the Bay St. George chapter for eight years and is involved in several sports.
Since the start of the COVID-19 pandemic, Special Olympic clubs across the province and across Canada have not been able to meet in person and share their experiences.
They've turned to activities over Zoom calls, but there is something missing.
"It is not the same as getting together with my friends," said Renouf. "I really miss everyone."
There is hope that soon provincial regulations will ease to allow those crucial in-person interactions to occur again.
To help with that, Special Olympics Canada and Tim Hortons are partnering on the Choose to Include campaign to raise funds for the safe reopening of Special Olympic programs in Canada.
Renouf, Megan Martin and Weslee McDonald were recently named provincial ambassadors and Champions of Inclusion for the new country-wide campaign.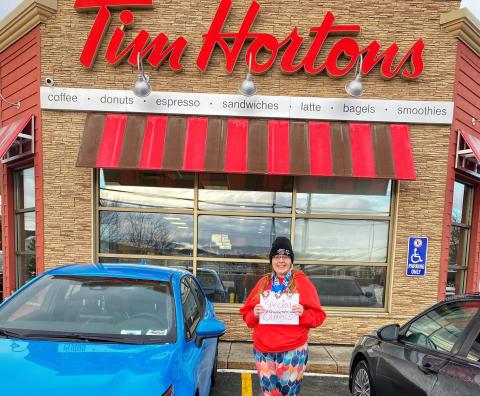 Starting on Friday, Tim Hortons and Special Olympics Canada will launch the campaign to raise funds and help expand the Special Olympics program through its opportunity and accessibility for athletes. Currently, there are 41,000 athletes in programs across the country.
A special donut has been created for the occasion, with a design inspired by diversity and inclusion. All sales of the donut will be diverted back to local clubs to help with their programs.
There will also be a social media component with the hashtag #ChooseToInclude.
For Renouf, the campaign means being kind and welcoming to everyone.
"I can't wait to take part in it," he said. "It is so important."
The campaign will end Sunday.
Like Renouf, 26-year-old Megan Martin is a provincial ambassador for the Choose to Include campaign.
She has been heavily involved with the Special Olympics for the last eight years and competes in several sports.
"I like meeting new friends and achieving my goals," said Martin. "I like my coaches and the volunteers."
Since the shutdown of Special Olympic activities, Martin has maintained that heavy involvement as training nights turned to Zoom calls.
On those calls, she encouraged others to stay active and healthy. Martin also started online art sessions for other athletes during the shutdown.
Still, nothing replaces the benefits of interacting with other athletes and their coaches, she said.
"I miss my coaches and my friends and just being fit because it's kind of hard when you're home," she said. "You can go for a walk, but it's nice to go into Special Olympics and see your friends and your coaches and try to reach your goals."
That's what makes this latest campaign so important for Martin and her friends. The money will help programs get back off the ground as soon as they are able, and help programs expand a little.
"We get to follow our dreams like everyone else. Special Olympics and this program is doing that," said Weslee McDonald.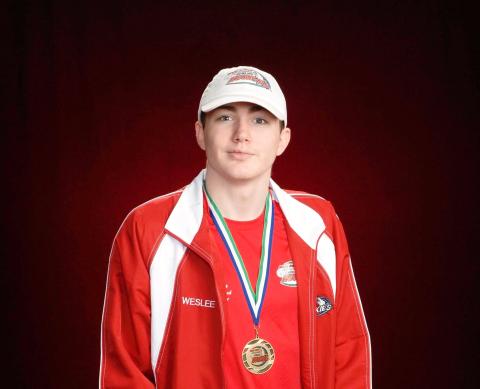 When Mcdonald got the call to be one of the three ambassadors for Newfoundland and Labrador, the 20-year-old from Happy Valley-Goose Bay couldn't quite believe it.
"I was shocked and then extremely proud," he said.
McDonald got started with the Special Olympics in his hometown five years ago and he's loved it ever since.
It gives him the chance to participate in a variety of sports — snowshoeing is his favourite — and he has found friends there that understand him.
"It is pretty good," said McDonald. "It is life-changing."
When Tim Hortons donuts are on the menu, McDonald will usually opt for a chocolate dip donut.
However, this weekend he sees a couple of Special Olympic donuts in his future. The cause behind them is too good to pass up, he said.
"It is including people like us," said McDonald. "It is making us feel like we're equal."