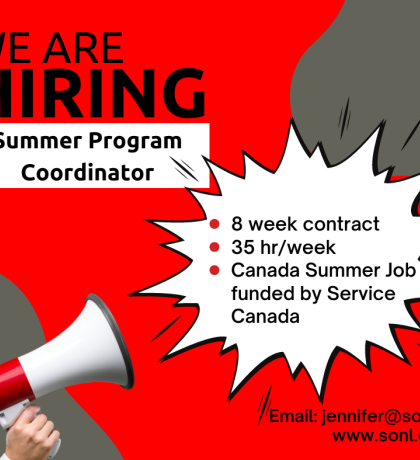 We're Hiring a Summer Program Coordinator (St. John's)
Job Title: Summer Program Coordinator Location: St. John's (005-40 Aberdeen Ave)
Summary: Special Olympics NL is dedicated to enriching the lives of individuals with an intellectual disability through sport. We are seeking an enthusiastic, creative, and energetic individual who would work in both a team environment and independently to assist with the development and implementation of Special Olympics summer programming in the Metro region and to supper Chapter staff with program and competition delivery throughout the province.
Responsible To: Jennifer McCann (she/her), Membership Services Coordinator, SONL
Start Date: June 27, 2023
Term: 8 week contract (35hr/week)
Rate of Pay: $14.50/hr
DUTIES INCLUDE:
Assist in program planning based on the Active Start and Fundamentals program and other sports.
Assist with promotion and development of Youth Programming
Assist in program planning for Fit Family & Friends
Guide athlete in participation of all activities
Supervision of athletes and activities at all times
Adapting programs to include all athletes
Travel to and from various venues used in program delivery
Work as part of a team
Be a positive role model to athletes
Ensure safety standards are maintained at all times
Other duties as required
QUALIFICATIONS:
Experience working/volunteering with individuals with an intellectual disability of varying ages.
Excellent written, verbal communication and interpersonal skills.
Must be creative and energetic
Knowledge of health and physical activity community particularly as it pertains to children and youth is required
A sporting background (soccer, basketball, gymnastics, athletics, etc) would be an assest
Working knowledge of M365, including but not limited to Word, Excel, and PowerPoint.
Experience using social media platforms, Zoom and graphic creation software an asset.
Able to work flexible hours, including evenings and weekends
Completion of Fundamental Movement Skills, High Five or similar training would be an asset.
Completion of the Special Olympics Competitive Coaching Course would be an asset
REQUIREMENTS:
Valid Driver's License and daily access to own a vehicle, ability to travel.
Valid First Aid and CPR certificates
Current criminal record check with vulnerable sector screening.
Must be between 15 and 30 years of age at the beginning of the employment period.
Must meet all eligibility requirements as outlined by Service Canada
HOW TO APPLY:
Submit your resume directly via email to Jennifer McCann (she/her). Membership Services Coordinator, SONL jennifer@sonl.ca
Application Closing Date: Monday, June 5, 2023
We thank all applicants for their interest, however, only those selected for an interview will be contacted.