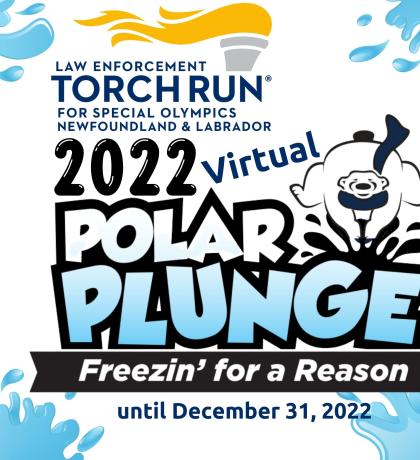 With your support this Fall, our Special Olympics Newfoundland and Labrador staff will be #FreezinForAReason. We will be taking part in the 2022 Law Enforcement Torch Run Virtual Polar Plunge. As much as our Executive Director, Trish Williams, and Program Director, Kim McDonald-Wilkes truly dislike the cold, they really want to show their support for our amazing Special Olympics Athletes and Torch Run Officers.
Youth Development Coordinator, Bobby Gamba is eager to join in the fun, while our Sport Coordinator, Shayne Menecola who is an avid cold-water swimmer will be giving us tips to ease the pain. Don't worry, you can enjoy our team's experience as we share pictures and videos of us taking the plunge!
Looking forward to seeing us take the plunge? First, we have to hit our fundraising goal of $2000.00 Once we have met our goal, we will be #FreezinForAReason in some very cold water near you!
We ask you to please support us by donating to Special Olympics Newfoundland & Labrador, all proceeds will be in support of Athletes and grassroots programming throughout the province. Donate Here
Or if you are feeling really brave sign up as an individual or create a team and take the plunge. You too could be #FreezinForAReason.