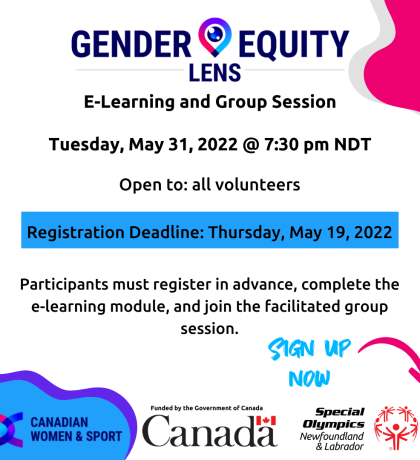 The invitation is open to all interested volunteers – the registration deadline has been extended to Thursday, May 19.
REGISTER HERE: https://forms.office.com/r/VL8SMngTM4
As part of our commitment to support volunteer recruitment and retention and to further advance education in diversity, equity, and inclusion we are excited to offer the Gender Equity LENS framework through a partnership with both Special Olympics Canada and Canadian Women & Sport. This framework will give you as sport leaders the information and tools you need to act on our commitment to inclusion and make program decisions that better serve women and gilds in sport. In a recent survey, 98% of participants felt that the information and skills they learned through the Gender Equity LENS were valuable to their organization and was an assess to improving volunteer retention and recruitment.
To learn more about the Gender Equity LENS Framework visit: https://womenandsport.ca/learning-opportunities/e-learning/gender-equity-lens/
WHAT: Gender Equity LENS Framework: Providing training resources for Gender Equity within sport for SONL.
Gender Equity LENS E-Learning Module – an E-Learning module you will complete prior to the online group event.

Online Facilitated Group Event – Lead by Canadian Women & Sport
WHEN:
Complete the short registration form by

Thursday, May 19

to receive your user license code to access the E-Learning Module
Complete the Gender Equity LENS E-Learning Module before or on May 31
Join us at 7:30pm NDT on Tuesday, May 31 for a facilitated group event led by Canadian Women & Sport
WHO: Open to all SONL
Staff & Provincial Board Members

Club Executive Members

Coaches & all interested volunteers
This program is being funded through the Government of Canada