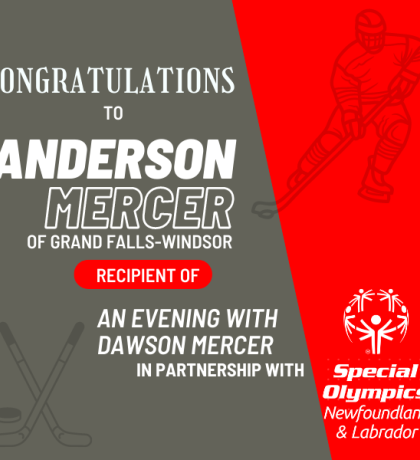 📣Congratulations to Anderson Mercer of Grand Falls-Windsor the recipient of An Evening with Dawson Mercer‼️
On Tuesday, August 9th, 2022 @5pm, you and your friend along with 2 parents/caregivers will enjoy a fantastic and memorable evening with New Jersey Devil's Dawson Mercer and his family while supporting over 800 Special Olympics Athletes in Newfoundland and Labrador.
The evening will include:
🏒A night at the Delta Hotels by Marriott St. John's Conference Centre
🏒Dawson's favorite pregame meal before you train
🏒New Jersey Devils memorabilia jerseys, hats, player cards, and pucks for signing
🏒Skates sharpened courtesy of Sportscraft Source For Sports
🏒Transportation to and from Capital Hyundai Arena for your skate with Dawson Mercer. Kindly donated by Capital Hyundai Arena, with full support from Andrew McKim and Randy Pearcey, who not only coached Dawson in his early years but continue to be massive fans of the player and person he has become today.
🏒Private ice time with Dawson Mercer
🏒Photo session with Sara Rostotski . She is generously donating an 11x17 stand-alone portrait to the lucky winner.
(Additional pictures will available for purchase.)
🏒Post skate dinner at Loose Tie with Dawson Mercer and his family where you can learn about his journey to the NHL and ask any questions you may have.
Thank you to everyone who placed bids and supported this wonderful partnership.
A special thank you to Dawson Mercer and his family for supporting Special Olympics Newfoundland & Labrador Athletes!