Athletes are the heart of Special Olympics.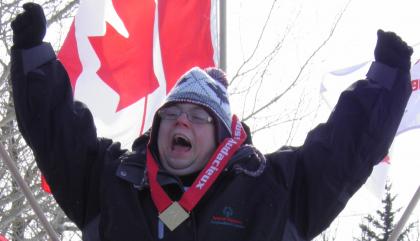 Who Are Our Athletes?
Our athletes have limitless potential and are individuals with intellectual disabilities.
In Newfoundland & Labrador, we have over 600 athletes representing over 90 communities across the province. This diverse group of individuals vary in gender, ethnicity, age and abilities, but all share the passion for sports and activity.
Special Olympics Newfoundland & Labrador athletes are able to compete in numerous official summer and winter sports. Check out our full list of sports and official rules.

SONL Powerlifter Jackie Barrett
Every Day, Everywhere
Special Olympics training and competitions happen 365 days a year. We're more than a one-time event!
We also have Young Athletes programs: Active Start and FUNdamental for ages 2 to 14 year old.  In these programs, Program Leaders help introduce children to the world of sport by developing fundamental movement skills like walking, running, jumping and balancing. These skills provide support for every day activities as well as a base for Special Olympics sports training and competition as athletes grow older.
So whatever your age or skill level, Special Olympics has something for you. Many athletes start in one sport, then go on to try others.
Through sports, our athletes are seeing themselves for their abilities, not disabilities. Their world is opened with acceptance and understanding. They become confident and empowered by their accomplishments. They are also making new friends, as part of the most inclusive community on the planet -- a global community that is growing every day.
From Athletes to Leaders
Through sports training and competitions, Special Olympics helps people with an intellectual disability find joy, acceptance, success and empowerment. They can move toward a more public role as a speaker or spokesperson. They can speak to audiences and journalists about the positive changes that Special Olympics helped bring about in their lives. At Special Olympics, our athletes are empowered to share their many gifts and talents with society.