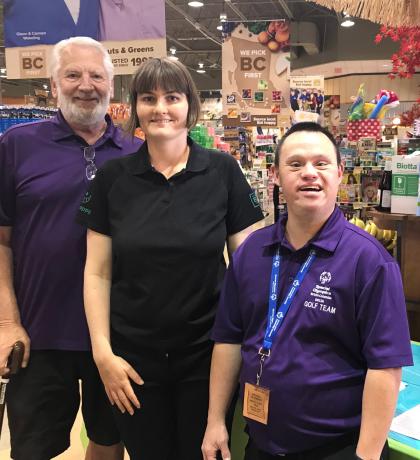 Sobeys is a proud National Partner of Special Olympics Canada. Since 2016, Sobeys has contributed more than $5.4 million in food and funds to support Special Olympics athletes and programs across Canada.
Sobeys is committed to helping address the need for more nutrition education and resources for Canadians with intellectual disabilities, and to empowering Special Olympics athletes to achieve healthy bodies and healthy minds.
Since 2018, Sobeys has held an annual national in-store checkstand fundraising campaign which creates critical support for Special Olympics. The 2022 campaign was no exception, Sobeys surpassed their fundraising goal yet again and raised $1.1 million to support Special Olympics athletes across Canada.
Sobeys has shown a powerful commitment to supporting the Special Olympics community with nutrition education and resources. Sobeys Dietitians created Sobeys Nutrition Breaks, video lessons which cover topics such as Canada's Food Guide, Healthy Eating on the Go, and Mindful Eating. They even hosted SOBC Wellness Wednesday Facebook Live sessions during the pandemic, sharing tips for making healthy recipes while staying safe and connected at home.
Sobeys is also a champion of inclusion in the workplace, employing thousands of Special Olympics athletes across the country and many right here in British Columbia. Read about SOBC – Campbell River athlete and Thrifty Foods employee Ashley Adie.
As a Diamond Sponsor of the 2020 Special Olympics Canada Winter Games in Thunder Bay, Sobeys, through its Safeway banner, supplied healthy meals and snacks to athletes and volunteers. They also served as a major sponsor of the 2019 and 2017 Special Olympics BC Games to help Special Olympics athletes show their abilities and experience the thrill of competition.
Throughout the year, Sobeys provides in-kind donations that support SOBC programs and fundraising events. This helps Special Olympics BC keep costs down, and encourages athletes and volunteers to make healthy food choices while at competitions, meetings, and conferences.
We are so grateful to Sobeys for supporting Special Olympics and for their dedication to improving the health of athletes across the country.