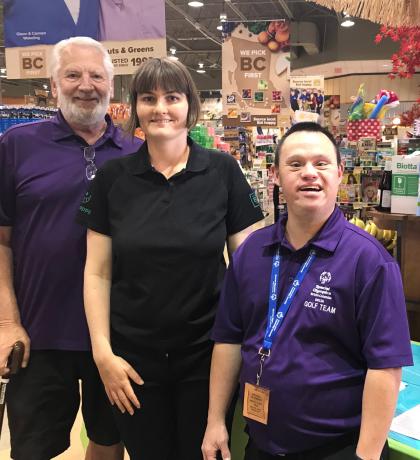 Sobeys Inc. is committed to supporting Special Olympics programs and helping athletes make healthy food choices.
A proud partner of Special Olympics Canada, Sobeys made a difference with their second annual fundraising campaign, which took place from June 20 to July 3, 2019. In Sobeys, Safeway, Thrifty Foods, IGA, Foodland, and Urban Fresh stores across the country, staff encouraged customers to make a donation at the checkout. In total, this successful campaign raised almost $930,000 for Special Olympics programs across Canada.
In some locations, athletes helped employees bag customers' groceries and hand out food samples as part of the Sobeys Summer Food Fair.
"It was amazing!" Safeway Castlegar Manager Brian Bogle said. "I spent a lot of time with the athletes just talking and joking around. It's a great experience for us, and I think the athletes enjoy interacting with the customers."
A champion of inclusion in the workplace, Sobeys employs thousands of Special Olympics athletes across the country and many right here in B.C., including Team BC 2020 Training Squad speed skater Eric Bruneau from Coquitlam.
Sobeys also helps Special Olympics athletes show their abilities and experience the thrill of competition. Sobeys was a valued sponsor of the 2019 SOBC Winter Games in Greater Vernon and the 2017 SOBC Summer Games in Kamloops. They were also a Co-Presenting Sponsor of the 2018 Special Olympics Canada Summer Games in Antigonish, Nova Scotia.
Throughout the year Sobeys provides in-kind donations that support SOBC programs and fundraising events. This helps Special Olympics BC keep costs down, and encourages athletes and volunteers to make healthy food choices while at competitions, meetings, and conferences.
We are so grateful to Sobeys for supporting Special Olympics and for their dedication to improving the health of athletes across the country!