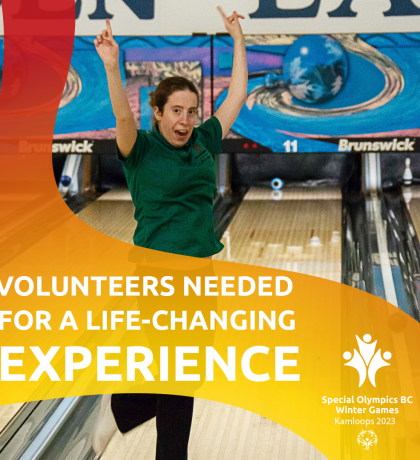 More than 650 Special Olympics BC athletes and volunteers cannot wait to come back together in Kamloops for the 2023 SOBC Winter Games from February 2 to 4. These will the first SOBC Provincial Games in four years, and they matter more than ever to Special Olympics athletes with intellectual disabilities, who were already far too familiar with the pain of isolation.
The support of Kamloops-area volunteers is vital to ensure these dedicated Special Olympics BC athletes will have the chance to compete with pride, showcase their abilities, and reconnect with their friends from around the province.
Registration is open now for the rewarding volunteer opportunities in the 2023 SOBC Games. From February 2 to 4, volunteers can contribute in a wide range of roles, including sport services, food services, operational logistics, medical and safety needs, and support for ceremonies, accommodations, and multimedia content creation. No experience is needed – just a desire to create empowering opportunities for athletes with intellectual disabilities who love their sports and their Special Olympics friends, and who are still forgotten and left behind far too often in the world outside Special Olympics.
"Having volunteered with two previous Special Olympics BC Games, I can say firsthand that it is so much fun to help these enthusiastic and dedicated athletes compete and show their skills. It really matters to them, and really is so rewarding," says volunteer 2023 SOBC Games Chair Jan Antons. "Kamloops has such amazing and generous volunteers throughout our community – I know they will come through again to make these meaningful Games possible."
Athletes qualified to compete in the 2023 SOBC Games through their performances in Regional Qualifiers held from January to May 2022. In the current sport season, they are training hard in the year-round Special Olympics programs in their communities, getting ready to pursue personal bests in Kamloops. 
Hometown athlete Megan Gourley qualified to compete in curling in the 2023 SOBC Games, and has been hard at work.
"I'm so excited that the Special Olympics BC Winter Games are going to be in my hometown, and I'm looking forward to it! My training is going very well. I do exercise every day so I'm ready for the Winter Games," Gourley says. "I can't wait to see my friends and compete against different teams for curling."
Register to volunteer with the 2023 SOBC Games
About the 2023 Special Olympics BC Winter Games
Set to be held in Kamloops from February 2 to 4, the 2023 SOBC Winter Games will star approximately 500 athletes with intellectual disabilities competing with pride in the eight SOBC winter sports: 5-pin bowling, alpine skiing, cross country skiing, curling, figure skating, floor hockey, snowshoeing, and speed skating. The participating athletes will be supported by approximately 150 volunteer coaches and mission staff. SOBC will need the support of approximately 800 valued local volunteers to put on this empowering competition. 
Learn more about the 2023 SOBC Winter Games
About Special Olympics BC
Special Olympics BC is dedicated to enriching the lives of individuals with intellectual disabilities through sport. In 55 communities around the province, we provide year-round training and competitive opportunities in 18 different sports to more than 5,200 athletes of all ages and a wide range of abilities, thanks to the dedicated efforts of over 4,300 volunteers. To learn more about SOBC – Kamloops, visit www.sobckamloops.org or find them on Facebook.