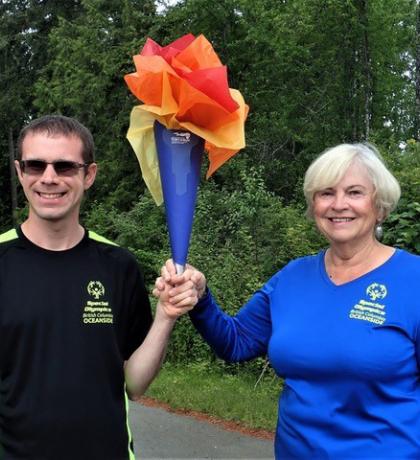 Special Olympics supporters stepped up in a big way for the first-ever Virtual Law Enforcement Torch Run for SOBC. From June 1 to 7, participants from all over the province ran and walked in their communities to raise funds and awareness. They couldn't lace up together in person this year, so participants found creative ways to come together in spirit to make a difference for Special Olympics BC.
"I would like to thank everyone who contributed to the Virtual Law Enforcement Torch Run, from law enforcement to athletes to coaches to fans – you're all awesome!" SOBC – Campbell River athlete Ashley Adie said in a Twitter video. 
To recognize the 30th anniversary of the BC LETR, the event's fundraising goal was $30,000, and runners/walkers looked to cover a combined distance of 3,000 kilometres. Special Olympics supporters greatly exceeded these targets, raising more than $66,000 and racking up more than 5,700 kilometres.
Many participants built excitement for the event by sharing creative content on social media. This included Special Olympics BC athletes posting photos with homemade torches and law enforcement members and SOBC athletes sharing videos with motivational messages. 
Watch CTV Morning Live Vancouver's story on the motivational videos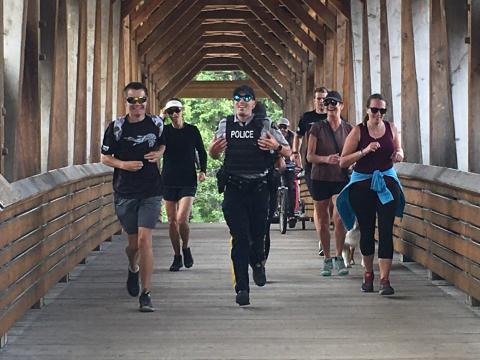 During the week of the event, law enforcement members found a new way to show their support for Special Olympics. Organized by BC RCMP Staff Sergeant Janelle Shoihet, agencies virtually passed the torch to each other through videos on social media.
"To all of our athletes, these are interesting times, but know that we are still with you and there will come a day when we will all run again together!" Ridge Meadows RCMP Superintendent Jennifer Hyland said in her agency's video. 
Special Olympics BC athletes from across the province gave their all during the Virtual Torch Run for SOBC. They helped set the pace for fundraising, bringing in an amazing total of more than $33,000. 
SOBC – Langley athlete Christopher Lakusta raised more than $6,500 and was the event's top fundraiser. He appreciated how the Virtual Torch Run gave him an opportunity to stay active, and he enjoyed connecting with friends and family to raise funds.
"Just thank you to everyone who donated!" Lakusta said to the Langley Advance Times.
Camaraderie and inclusion are important parts of all BC LETR events. During the Virtual Torch Run, in communities across the province, SOBC athletes and law enforcement members managed to meet up for runs and walks (while maintaining social distancing).
Read this Delta Optimist story on Delta Police Department Inspector Ciaran Feenan and Constable Jeremy Pearce running with SOBC – Delta athlete Cory Duhaime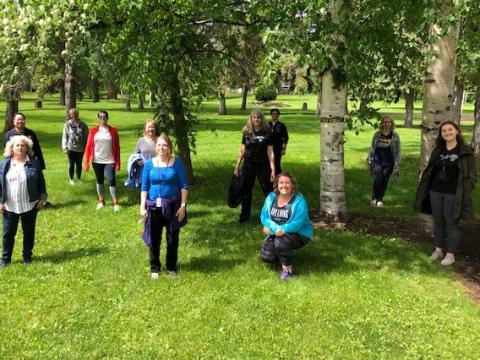 Special Olympics BC – Abbotsford athletes were each partnered with an Abbotsford Police Department member for the event. There were lots of smiles and excitement as the pairs ran, walked, and hiked together. Organized by the mother-daughter duo of SOBC – Abbotsford volunteer Edna Clifford and APD Constable Estee Clifford, this inclusive arrangement allowed the athletes and Abbotsford Police members to support and encourage each other throughout the week. 
SOBC – Abbotsford athlete Josh French had a great time running with APD Constable Gavin Ducharme. 
"I felt lucky to have a policeman run with me and I really appreciated Gavin taking the time to do that!" French said. 
The partners challenged each other during the week, and have scheduled future runs to keep each other motivated. 
"I found it awesome that within 100 metres of our first run, we found we had so much in common – from liking the same sports to playing the same positions," said Cst. Ducharme. "Josh has a great attitude and is looking at this unforeseen down time as extra time to train. I know he is looking forward to play again, and we are looking forward to cheering him on."
Huge thanks to all the law enforcement members, SOBC athletes, and other participants who made the first-ever Virtual Torch Run for Special Olympics BC a big success!
You can check out Oak Bay Police Sergeant Sheri Lucas and Vancouver Police Department Inspector Joanne Wild talk about the Virtual Torch Run and the BC LETR on SOBC's What's On Your Mind Wednesday.
Watch the fun and creative promo videos that law enforcement members and SOBC athletes put together for the Virtual Torch Run:
Victoria Police Department Chief Constable Del Manak ⚫ Vancouver Police Department Chief Constable Adam Palmer ⚫ Chief Superintendent Warren Brown, District Commander, North District RCMP ⚫ Deputy Commissioner Jennifer Strachan, Commanding Officer of the BC RCMP ⚫ VPD Inspector Joanne Wild and Constable Cam Mackay ⚫ Metro Vancouver Transit Police Deputy Chief Officer Barry Kross ⚫ SOBC – Langley athlete Christopher Lakusta ⚫ APD Chief Constable Mike Serr and SOBC – Abbotsford athlete Katie Marchbank ⚫ SOBC – Victoria athlete Sheenagh Morrison with Saanich Police Department and Oak Bay Police Department members ⚫ SOBC – Abbotsford athlete Paige Norton and APD Constable Leah Garrigus