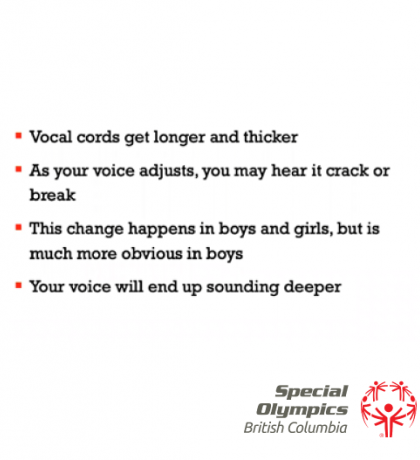 Special Olympics BC works to offer health opportunities that empower athletes with intellectual disabilities. This season, new virtual health events have created amazing discussions between volunteer health professionals and advocates with SOBC athletes, coaches, volunteers, and supporters.
The SOBC Virtual Personal Health Series offered six educational and interactive sessions about relationships, puberty, sexual health, and women's health. Presentations were followed by discussion sessions, where athletes asked interesting and helpful questions.
Leading these sessions was Kimberly Rutledge, a psychology and biology UBCO student. Rutledge is an inspiring advocate for mental wellness, science, and inclusion, and the sister of Special Olympics BC – Kelowna athlete Kassidy.
Rutledge says, "I found that when I was growing up, my sister was left out of so many of these conversations. It was almost taboo to think that someone with a disability could be in a romantic relationship or express their sexuality. Beyond that, education and literacy regarding simple things such as our human biology and hygiene often didn't involve these folks. It's as if out of sight out of mind, but these conversations are so important. This information is crucial for navigating life situations and for keeping us safe."
The session about healthy and consenting relationships was a joint event for both men and women, while the rest of the sessions were separated by gender.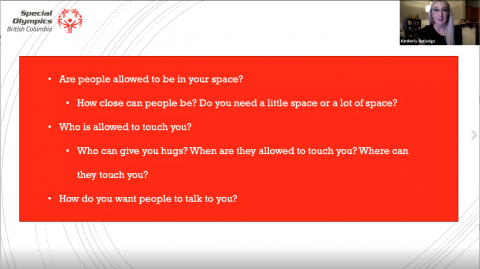 SOBC – Creston athlete Frances Collison says, "I appreciated that SOBC had gender-specific sessions because I felt more comfortable asking questions. I learned a lot about love, self-care, communication, as well as the importance of consent in healthy relationships."
In order to keep offering Healthy Athletes opportunities, SOBC moved into the virtual world this fall, partnering with health professionals to host five Virtual Healthy Athletes Education Sessions in the disciplines of Healthy Hearing, Health Promotion, and Strong Minds. These sessions provide free, fun screenings and education for people with intellectual disabilities.
The two virtual Healthy Hearing sessions were led by Darlene Hicks, SOBC Healthy Hearing Clinical Director and Program Leader of the Richmond Health Audiology Program, with two other Clinical Directors.
Despite the pandemic putting a pause on these traditionally face-to-face sessions, Hicks sees the new virtual format as another opportunity.
"These sessions have allowed us to discuss some hearing health promotion topics in depth that we often don't get to touch on in our in-person screenings, such as avoiding exposure to loud sounds and dealing with ear wax," says Hicks.
While these sessions addressed many different topics, they all offered an opportunity for athletes to connect during these distant times.
Hicks says, "It has also been important to connect with the athletes during this time when we cannot gather in person, to help them have a sense of connectedness, both with the Clinical Directors and each other."
To hear about the latest SOBC health initiatives, be sure to follow us on social media and visit the Upcoming Health Opportunities page.