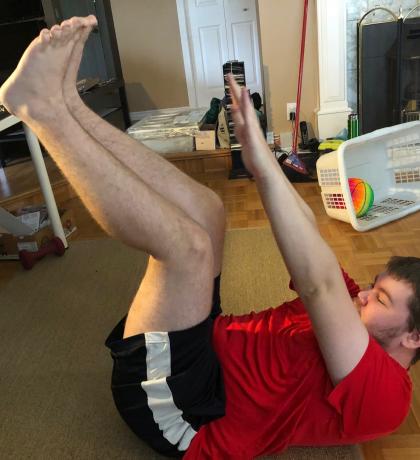 motionballers across Canada laughed, danced, and worked up a sweat during the first-ever virtual Marathon of Sport on September 26!
Hosted by five-time Olympic medallist Tessa Virtue, the star-studded motionball broadcast on Sportsnet was a spectacular celebration of Special Olympics. Not only did participants raise their heart rates, they also raised an impressive total of more than $1 million to support Special Olympics programs across Canada. 
In a normal year, motionballers raise funds and awareness for Special Olympics at Marathon of Sport events in their communities. Because of COVID-19, motionball held the 2020 event virtually – and everyone across Canada was able to participate. 
"Since this year is a little different, so is our event – and I couldn't be more excited to be here with you today!" Virtue said to kick off the show.
Watch the 2020 Marathon of Sport
Because of the virtual format, Special Olympics BC – Oceanside athlete Kerri Lipsack was able to take part in a motionball event for the first time. She had a blast following along with all the activities, and was extremely excited that Virtue was hosting. 
"She is so awesome! I loved watching her on TV – she is one of my ultimate favourite skaters!" Lipsack said. "That made me feel so happy that she was involved with Special Olympics. I thought that was so good and made me so happy!"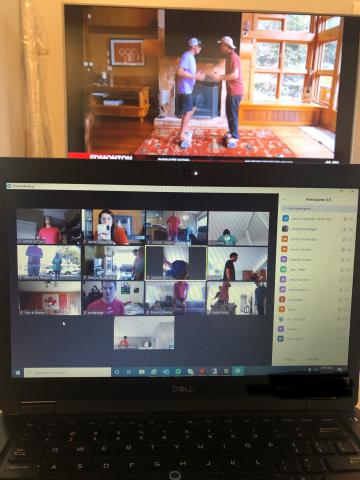 The show featured an impressive lineup of talent, including Patrick Anderson, Aaron Brown, Ashley Callingbull, Darla Deschamps, Rilee Many Bears, Craig and Mark McMorris, Jon Montgomery, Penny Oleksiak, Morgan Rielly, Natalie Spooner, and Special Olympics athletes from across Canada.
Lipsack said her favourite part of the show was hockey practice with Morgan Rielly and Natalie Spooner. Lipsack followed along from home, using a crumpled-up piece of paper as a puck. 
"It was very good and it was fun to watch!"
In normal times, Lipsack participates in bowling, curling, swimming, and Club Fit through SOBC – Oceanside. The 2020 Marathon of Sport included many exercises that Lipsack says will help her with her sports. In particular, skeleton athletes Jon Montgomery and Darla Deschamps – along with their two children – demonstrated the yoga tree pose. Lipsack believes this will help her with her balance. 
"I thought it was pretty cool that they included the kids," Lipsack said. "It was pretty fun for them to do that."
SOBC – Delta athlete Scott Fattedad has previously participated in the Vancouver Marathon of Sport. He really enjoyed this year's virtual event, and appreciated seeing all the Canadian sport celebrities out to support Special Olympics. 
The highlight of the show for him was Virtue interviewing Jackie Barrett, who is set to be the first Special Olympics athlete inducted in Canada's Sports Hall of Fame. The powerlifter discussed his record-breaking achievements, the importance of preparation, and how young Special Olympics athletes can be successful in their sports.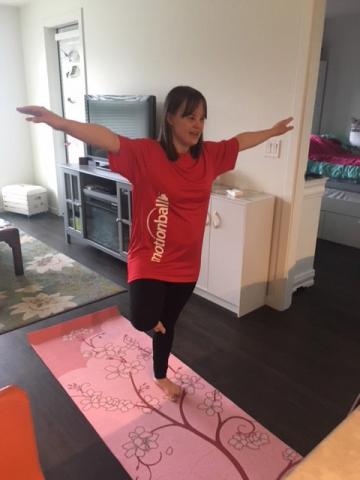 "My advice for anyone who wants to pursue any sport in Special Olympics is that you got to believe in yourself, listen to your coaches, and listen to your volunteers," Barrett said. 
The broadcast also included a segment on motionball's #NoGoodWay campaign, which looks to eliminate the R-word from everyday conversation. Many Canadian celebrities pledged to not use the hurtful word, and they ripped up pieces of paper that had the R-word written on them.  
SOBC – Fort St. John coach and parent Crystal took to Twitter to thank snowboarder Mark McMorris for taking the pledge. 
"Thank you, Mark! It kills me when I hear people using this word in regular conversation."
Kerri Lipsack is very grateful to motionballers for supporting athletes like her through the 2020 Marathon of Sport.
"It's fantastic that it raised so much money – it is so good!" she said. "All I can say is one word: awesome!"
On Instagram, motionball Kelowna's Derek Fuhr said event organizers were inspired by Special Olympics athletes. 
"If there's one thing a Special Olympics athlete can teach you when faced with adversity: Start by doing what's necessary, then do what's possible, and suddenly you are doing the impossible!"
Watch this Global News Okanagan story to see Fuhr talk more about the virtual event.
Huge thanks to 2020 Marathon of Sport organizers, sponsors, and participants! We are also very grateful to Tessa Virtue and all the celebrities who played a big role in making this fantastic event so memorable. 
Rewatch the broadcast on Sportsnet's YouTube channel: