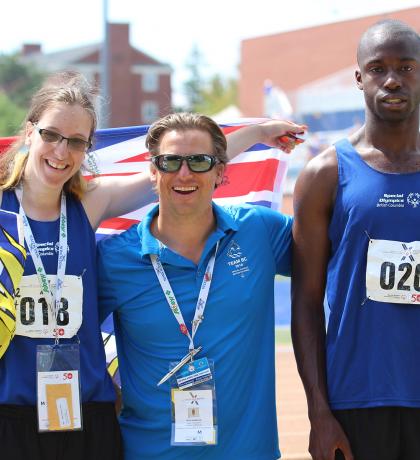 Special Olympics Team BC 2018 athletes competed with skill, sportsmanship, and pride at the 2018 Special Olympics Canada Summer Games. The athletes earned more than 220 medals and achieved many personal bests at the event in Antigonish, Nova Scotia, which ran from July 31 to August 4.
"Team BC athletes did a fantastic job at the 2018 Special Olympics Canada Summer Games," says Leslie Thornley, Team BC 2018 Chef de Mission. "These athletes trained hard to prepare for this event and we are extremely proud of how they represented their province. It was very exciting to see them impress spectators from across Canada with their abilities and sportsmanship."
Team BC medal count from National Games

 

Gold

Silver

Bronze

TOTAL

Athletics

14

18

13

45

Basketball

1

1

0

2

Bocce

2

3

2

7

Golf

2

1

0

3

Powerlifting

6

5

4

15

Rhythmic Gymnastics

12

9

14

35

Soccer

0

1

0

1

Softball

0

1

0

1

Swimming

27

35

52

114

TOTAL

64

74

83

223
*Does not include swimming relay results
The 243 members of Team BC who travelled to Antigonish were made up of 174 athletes, 54 coaches, and 15 mission staff members, representing 38 communities across British Columbia.
Competing at National Games is an empowering and potentially life-changing experience for Special Olympics athletes. Through competition and training, athletes set and achieve goals, build confidence and pride, and create valued friendships.
SOBC – Salmon Arm athlete Carina Chu earned bronze in bocce. She told the Salmon Arm Observer that receiving the medal was a very memorable moment.
"I was emotional, real emotional," Chu said. "I was in tears. Oh my gosh. My mom said 'Oh Carina, we were in tears for you too.'"
Chu said it was great to meet Special Olympics athletes from all over Canada.
"I met new friends, and told them good luck and shook their hands, and we took pins to exchange with athletes from other provinces."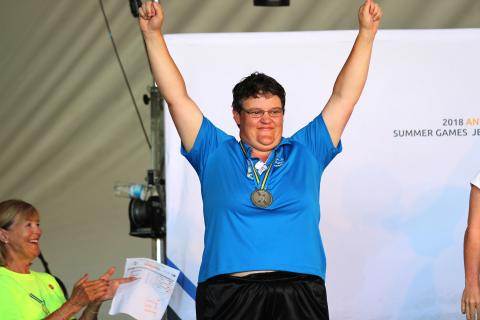 SOBC – Surrey athlete Sean Beddows and SOBC – Richmond coach Chris Vanderwel were on Breakfast Television Vancouver to talk about their experiences in Antigonish.
Beddows won a silver medal in swimming and achieved multiple personal bests.
"If I didn't get a medal I would still say I achieved a personal best either way," Beddows said.
Vanderwel said he was part of a great group of coaches who worked hard to support Team BC athletes.    
"It was an unbelievable experience," Vanderwel said. "I just approached the Games wanting to take everything in and to elevate our athletes and support them in every way we can. That's what we do as coaches, we are there for the athletes, we are there to make it the best experience possible, and to inspire them to push themselves to new limits."
SOBC – Port Alberni track and field athlete Maxtin Lengyel won gold and silver medals at National Games. He told the Tofino-Ucluelet Westerly News that he ran the fastest he has ever run when he finished first in the 200-metre race.
"I was very excited because I won a gold medal and I loved it … I pushed myself training for this and that helped me win in the race."
Team BC recap stories and media coverage
Athletes qualified for Team BC through their performances at the 2017 Special Olympics BC Summer Games in Kamloops. Special Olympics Canada will select members of Special Olympics Team Canada for the 2019 Special Olympics World Summer Games in Abu Dhabi based on performances in Antigonish.
From May 15 to 19, Team BC 5- and 10-pin bowlers competed at the 2018 Special Olympics Canada Bowling Championships, earning 31 medals. Performances at this event will determine the 10-pin bowlers that will be named to Special Olympics Team Canada.