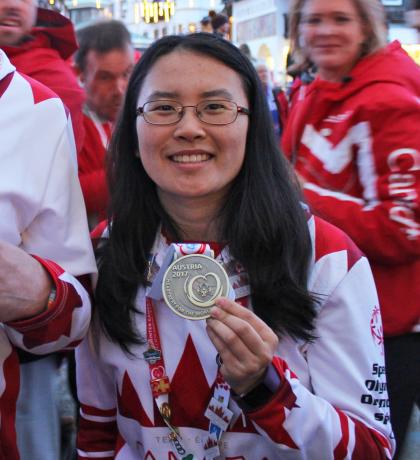 A cheerful, humble athlete who is passionate about alpine skiing, Special Olympics BC – Surrey's Susan Wang is a winner of a Spirit of Canada 150 Award!
Fleetwood-Port Kells MP Ken Hardie honoured Wang's achievements in competition and through her dedicated training by selecting her for the award. Wang received her Spirit of Canada 150 Award with fellow local recipients in a ceremony with MP Hardie on June 24, where they were all celebrated for making a difference in their community.
An accomplished alpine skier, Wang was a member of Special Olympics Team Canada 2017 and won a bronze medal and a fourth-place finish at the Special Olympics World Winter Games in Austria.
"This truly was a great experience and I'll cherish it forever," Wang said. "I loved competing with people from all over the world."
Wang qualified for the World Games through her outstanding performance at the 2016 Special Olympics Canada Winter Games in Corner Brook, where she captured one gold and two bronze medals. She earned her spot on Team BC 2016 by winning silver and bronze medals at the 2015 SOBC Winter Games in Kamloops.
The Fleetwood-Port Kells Spirit of Canada 150 Award citation celebrated Wang's accomplishments competing against the best in the world, and her inspiring example of success through hard work and perseverance.
Congratulations, Susan, on this exciting recognition!
If you know of an SOBC member recognized with a local award, please share the news with SOBC's communications team via megan@specialolympics.bc.ca or 604-737-3077.