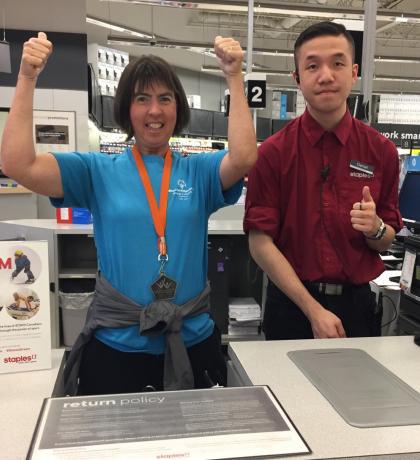 Special Olympics BC – Vernon athlete Katelyn Oliver has been involved with the Staples Canada Give a Toonie Share a Dream campaign for many years. She says the campaign is important because it raises funds that help make Special Olympics programs possible, and it spreads awareness in communities throughout the province.  
"It helps us know that the community is behind us," she says. 
The 19th annual Give a Toonie Share a Dream fundraising campaign ran from April 27 to May 27 and from October 21 to November 3. During this national campaign, Special Olympics athletes and volunteers joined Staples staff in stores to invite customers to donate at the till or online. The 2019 fundraiser raised more than $550,000 across Canada. 
Oliver visited her local Staples store for Give a Toonie Share a Dream in both the spring and fall. She said her favourite part of the campaign was meeting new people. 
"It's fun to get to talk to the different customers and employees."
Oliver wore her medals from Provincial and National Games while in the store, and said they were a great conversation starter. Many customers asked about them, and this gave her opportunities to talk about Special Olympics competitions and year-round programs, and explain why the organization is so important to athletes like her. 
Oliver said there were a lot of good feelings around the campaign. Talking to customers about Special Olympics made her feel happy, and customers who donated felt great about helping Special Olympics athletes succeed.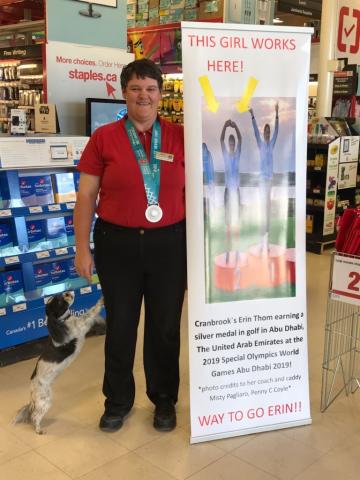 Oliver said Staples staff at the Vernon store were very friendly. If an SOBC – Vernon athlete felt shy about talking to customers, staff members were quick to provide support and encouragement. 
"They are really nice," she says. "They treat us with kindness and respect."
Coquitlam Staples General Manager Carol Wenlock says staff at her store have a great time during Give a Toonie Share a Dream.
"Our entire team looks forward to these events as much as the athletes do!" she says.
Wenlock says Special Olympics is a "fantastic organization that does so much to include everyone." She says many of the store's customers are involved with the organization, so it's great that the store supports this important, positive campaign.  
Wenlock says the store is fortunate to have SOBC – Coquitlam athlete Lauren Hogan as an employee. Wenlock says having a Special Olympics athlete working at the store gives other staff members a personal connection to the campaign. 
We are so grateful to Staples Canada staff and customers for their support of Special Olympics through Give a Toonie Share a Dream. Our sincere thanks to all the athletes and volunteers across the province who gave their time and energy to make the campaign a success for Special Olympics!