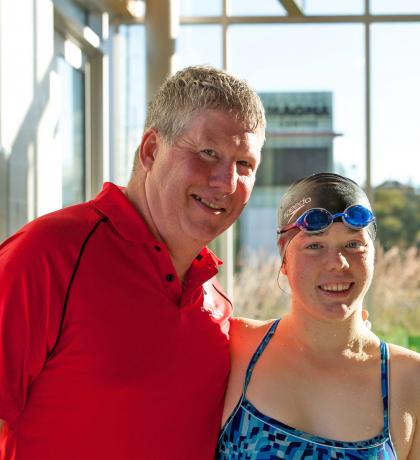 In a time where snow and cold weather blanket the province, 11 Special Olympics BC athletes have sun and the colour gold on their minds.
The 2019 Special Olympics World Summer Games take place in Abu Dhabi from March 14 to 21, and for the 11 SOBC athletes selected to Special Olympics Team Canada, winter is going to have to take a back seat as they set their sights on their upcoming international competition.
In the months leading up to the Games, SO Team Canada members will be training hard to get ready to shine on the world stage. The team met for the first time at two separate weekend sessions at Teen Ranch in Caldedon, Ontario in October. The camps set the stage for the work and opportunity ahead, as the upcoming World Games will be the largest sport and humanitarian event anywhere in the world in 2019.
The event will feature more than 7,000 athletes from 177 countries competing in 24 sports, supported by 3,000 coaches and 2,000 volunteers. The World Games are expected to draw over 500,000 spectators.
Highlights of the opening camps provided that first opportunity for athletes and coaches to transition from their province or territory of origin to Special Olympics Team Canada.
Genny Verge of SOBC – Sunshine Coast had a strong showing at the 2018 Special Olympics Canada Summer Games in Antigonish, Nova Scotia and was named to Team Canada. She said being chosen to represent her country on the world stage means the world to her.
"To be chosen as an athlete representing Canada was a shock, an honour, a proud moment for all my accomplishments, it is a dream come true," said Verge, who will compete in swimming.
Verge said she's hoping to post her personal best times in Abu Dhabi.
"I'm going to swim my heart out."
Making Team Canada has been a long, and at times, difficult process for Verge. She said the biggest obstacle she has had to face comes from accepting losses while she competes, falling short of the goals she set for herself.
"I have overcome these by learning what works best, excepting my losses, and training hard. These obstacles gave me the motivation to be a better athlete. My coaches have helped me overcome with their support, patience, tough love, TLC, and their advice," Verge said.
Jean Tetarenko will be joining Team Canada as part of the mission staff. She said it's evident from the opening camps in Ontario just how seriously the athletes take being part of Team Canada.
"The pride team members showed when they truly realized they were going to represent Canada was evident throughout the two camps," Tetarenko said. "The integration of mission staff, coaches, and athletes from across the country into a cohesive team without provincial or territorial borders was clearly evident in both camps."
SOBC – Kelowna's David Wilkinson will serve as Team Canada's bocce head coach in Abu Dhabi. He said there is a special bond forming between athletes, coaches, and mission staff.
"It's another example of how Special Olympics athletes are so accepting of everyone, seeing them start to look out for each other even though they have just met," Wilkinson said. "Plus, the time we spent with other sport-specific teams, building on the whole Team Canada concept rather than just our individual sports, is truly beneficial to our overall success."
As well as the 11 athletes, SOBC will be sending six coaches and three mission staff to Abu Dhabi.
Special Olympics Team Canada athletes, coaches, and mission staff from British Columbia are:
10-pin Bowling
| | |
| --- | --- |
| Name | Local |
| Patrick Reid | Victoria |
| Linda Renner | Prince George |
Athletics
| | |
| --- | --- |
| Name | Local |
| April Armstrong | Burnaby |
| Malcolm Borsoi | Surrey |
| Sheryl Jakubowski | Fort St. John |
| Arianna Phillips | Nanaimo |
Athletics coaches
| | |
| --- | --- |
| Name | Local |
| Peter De Marchi | Burnaby |
| Tom Norton | Abbotsford |
Bocce coach
| | |
| --- | --- |
| Name | Local |
| David Wilkinson | Kelowna |
Golf
| | |
| --- | --- |
| Name | Local |
| Kyle Grummett | Kelowna |
| Erin Thom | Kimberley/Cranbrook |
Golf coaches
| | |
| --- | --- |
| Name | Local |
| John Matthews | Kelowna |
| Misty Pagliaro | Kimberley/Cranbrook |
Powerlifting coach
| | |
| --- | --- |
| Name | Local |
| George Maclagan | Campbell River |
Swimming
| | |
| --- | --- |
| Name | Local |
| John Canning | Surrey |
| Genny Verge | Sunshine Coast |
| Kelsey Wyse | Kelowna |
Mission Staff
| | |
| --- | --- |
| Name | Local |
| Donna Bilous | Abbotsford |
| Darren Inouye | Burnaby |
| Jean Tetarenko | Victoria |