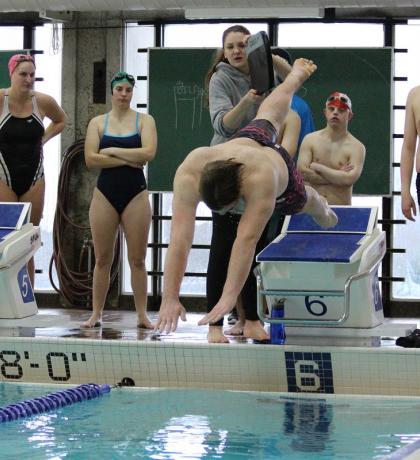 Special Olympics BC – Vernon's Kyle Borden says exercises he learned through SOBC's Performance Program have helped him improve his fitness, and this has made him a better athlete.
Borden says he was thrilled to see proof that his training had paid off in a functional testing session in Kelowna in March. In functional testing, athletes participate in exercises that measure fitness and test their foundational movements, generating data to help track and motivate progress. At the March session, Borden improved upon many of his October 2016 functional testing results, including many tests that involve core strength.
Among his impressive results, Borden increased his stork stand test time by almost 300 per cent on his right leg and more than 350 per cent on his left leg. He also improved his plank test time by more than 20 per cent. Borden maxed out on all three tests, so he could have scored even higher.
"It felt really good!" he said.
SOBC's Performance Program is a long-term plan with the goal of enhancing the skills and performance of coaches and through them, all SOBC athletes. In addition to helping athletes and coaches develop sport-specific skills, one of the main goals during the 2016-17 Performance Program season was to improve athlete fitness, especially in terms of core strength.
Pam Kiselbach runs the SOBC – Coquitlam Club Fit program and is the SOBC Healthy Athletes Clinical Director for Health Promotion. Kiselbach ran fitness sessions at several Performance Program camps during the 2016-17 season, and she says she always includes a core strength component because core strength is important to an athlete's success and well-being.
"If your core is stronger you can run faster, jump higher, and do more sit-ups – it all progresses from there," she says.
Kiselbach says Performance Program camps are a great resource for coaches because they show the potential of SOBC athletes. Coaches can take what they learned at the camps, including conditioning techniques, back to their Locals to benefit all athletes. Kiselbach also says the fitness sessions demonstrate how valuable Club Fit programs can be in helping SOBC athletes reach their performance goals.
SOBC's new functional testing database shows the Performance Program's focus on fitness and core strength is having an impact. From functional testing sessions held in 2016 to those held in 2017, SOBC athlete averages improved in four tests that involve core strength: the plank, stork stands, pushups, and agility. The biggest improvements were the average plank test time going up by more than 50 per cent and the average amount of pushups increasing by 62 per cent.
Borden says SOBC's Corrective Exercise Booklet and SOBC – Vernon's Club Fit sessions played important roles in helping him improve his functional testing results and overall level of fitness.
Borden received his Corrective Exercise Booklet at the functional testing session he attended in 2016. The book contains many exercises to help athletes improve their sport performance and health, and Borden does many of these exercises every day.
Borden also takes part in these exercises and many more during SOBC – Vernon's Club Fit sessions. SOBC – Vernon multi-sport coach and Club Fit trainer Janny Jung attended Performance Program camps for athletics and snowshoeing in 2016 and the Performance Program's Club Fit Summit in 2017. Jung says she has learned new exercises and drills at every camp she has attended and has incorporated them into the programs she is involved with in SOBC – Vernon, which has benefited athletes like Borden.
Borden says his commitment to training helped him achieve great results in July's 2017 SOBC Summer Games in Kamloops. Borden captured a gold medal in the javelin and a bronze medal in long jump, and he completed what he says may have been his best javelin throw ever.
"It was pretty awesome!" Borden said.
So far in 2017, SOBC athletes and coaches have come together to develop their skills at Performance Program camps for powerlifting and speed skating in January, rhythmic gymnastics in February, athletics, bowling, and swimming in March, and bocce in May. This year also saw the introduction of Regional Performance Camps, which are helping bring the Performance Program to more athletes and coaches across the province. SOBC held Regional Performance Camps for golf in Coquitlam, Cranbrook, Kelowna, and Victoria and swimming in Comox Valley, Cranbrook, and Kelowna.
The 2017-18 sport season will see SOBC athletes and coaches take part in Performance Program camps in all 18 SOBC sports, including camps for Team BC members as they prepare for the 2018 Special Olympics Canada Summer Games.
Stay tuned for information on fall and winter functional testing dates! Functional testing is open to all SOBC athletes and coaches.
Significant support from the Government of Canada, a $20,000 grant from RBC Foundation, and the ongoing generosity of SOBC's provincial partners help make the Performance Program possible.