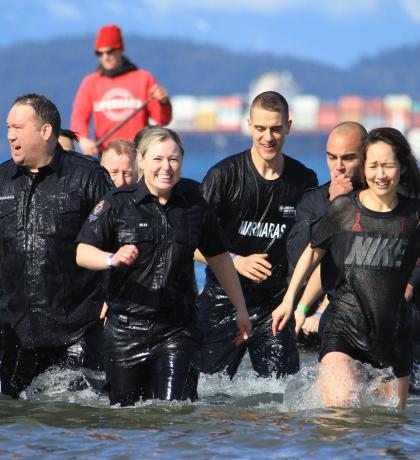 Law enforcement champions and other fearless Plungers charged into chilly waters at two Polar Plunge for Special Olympics BC events in March. Staged in partnership with the Law Enforcement Torch Run for SOBC, these frigid fundraisers saw participants laugh, splash, and show off their colourful costumes as they raised funds and awareness for SOBC.
More than 200 people got bold and cold at the third annual Vancouver Polar Plunge for SOBC presented by Westminster Savings Credit Union on March 3. This year's fundraiser at Kitsilano Beach was the most successful yet, raising more than $95,000.
Along with pumping up the crowd with an inspiring speech at the Vancouver Polar Plunge, SOBC – Abbotsford athlete James Clifford donned a colourful cape and joined law enforcement members, corporate teams, and other participants for the icy dip.
"Special Olympics is very important to me – it's like a second family," Clifford said before the Plunge. "I'm doing the Polar Plunge for it, so I'm looking forward to Plunging with everybody!"
Law enforcement agencies from across the Lower Mainland came out to support this frosty fundraiser at Kits Beach. For the third straight year, the Vancouver Police Department was the top law enforcement fundraising team.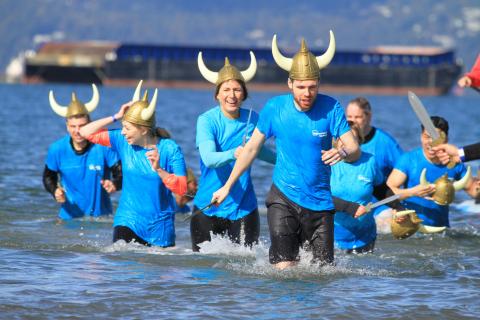 "It's an annual event we look forward to every year and the VPD and other police agencies in British Columbia have been supporting Special Olympics for many many decades now, and the police are really proud to be part of that," VPD Chief Constable Adam Palmer said to CTV News Vancouver.
A highlight of the event was BC Lions alumni Marco Iannuzzi, in costume and in character as Gru from the Despicable Me films, leading his team of cheering Minions from Team Dueck into the icy waves.
Check out this Surrey Now-Leader story to learn more about these creative costumes
The following week, more than 90 people crashed into the waters off Willows Beach at the first-ever Vancouver Island Polar Plunge for SOBC on March 11. The event in Oak Bay brought in more than $20,000, far exceeding its original fundraising goal of $5,000.
SOBC – Victoria athlete Emily Walzak said the Vancouver Island Polar Plunge was a lot of fun and she was grateful to see so many local law enforcement members out to support SOBC.
"It means a lot to see law enforcement out today," she said after the event. "It means that they really care about us as athletes and they want to show their support – and all the fundraising that they did was really amazing!"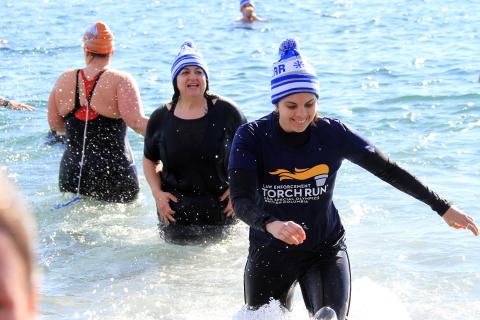 Walzak gave a heartfelt speech at the event and later plunged into the Pacific alongside fellow SOBC athletes.
"It was fun to go in with all the other athletes," she said. "We are all friends with each other and it was fun to be part of the atmosphere!"
Victoria Police Department Chief Constable and BC LETR Executive Council member Del Manak said it was exciting to be part of the first Polar Plunge for SOBC on Vancouver Island, and it was wonderful to see the event receive strong community support.
"I think this is a great fundraising event, and to be on the Executive Council and supporting such a special group of people and such a special cause, I find it inspiring and it's one of the best things that I get to do as a police chief," he said.
Chief Manak hopes even more people will take part in the Vancouver Island Polar Plunge next year.
"I am inspired by the heroes that we have in Special Olympics. I encourage everyone in our community to step up and take the Plunge!"
Watch CHEK News, CTV Vancouver Island, and Oak Bay News stories on the Vancouver Island Polar Plunge.
Huge thanks to all the law enforcement agencies and volunteers who helped make these Polar Plunges for SOBC events big successes.
We are grateful to Vancouver Polar Plunge Presenting Sponsor Westminster Savings; Media Sponsors City Television, JACK 96.9, OMNI Television, Sportsnet650; and Event Sponsors Dueck Auto Group, Safeway, and Tim Hortons. Sincere thanks to Vancouver Island Polar Plunge Event Sponsors Thrifty Foods, Serious Coffee Millstream Village and Oak Bay, and The Neal Estate Team.