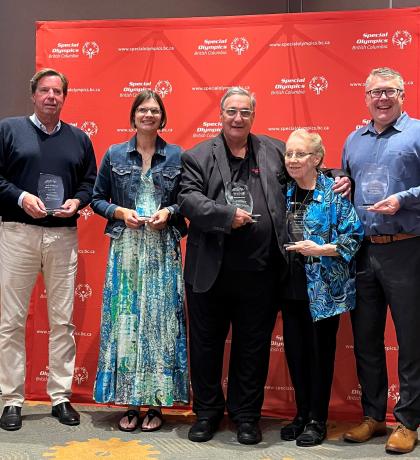 Special Olympics BC deeply values its members who empower athletes with intellectual disabilities through sport. One of the ultimate ways that members are recognized is through the SOBC Hall of Fame.
The Hall of Fame is the highest honor bestowed to dedicated members of the SOBC organization. Inductees are recognized for their outstanding and significant contributions to the SOBC community.
In September 2022, SOBC inducted six exceptional new members of the SOBC Hall of Fame. All have made a long-lasting impact through their dedicated efforts over the years. They were inducted in a ceremony at the SOBC Leadership Summit on September 17.
"The 2022 inductees to Special Olympics BC's Hall of Fame have made a deep and lasting difference in our movement and in communities throughout our province," SOBC President & CEO Dan Howe said. "I can't thank them enough for their long-standing and far-reaching efforts to empower people with intellectual disabilities and create inclusion through the power and joy of sport. It's an honour and a joy to celebrate our Hall of Fame members and their enduring impact."
This year's Hall of Fame inductees includes one athlete, one provincial builder, two Local builders, and two sponsors.
 
Local Builder Inductee: Clint Morrison
Clint Morrison has been involved in sport for people with intellectual disabilities for longer than Special Olympics BC has existed. As early as 1974, Morrison played floor hockey with the Vancouver Steelheaders, and ran a floor hockey league prior to the start of Special Olympics in BC. Morrison has been a Special Olympics BC athlete, volunteer, and fundraiser.
In 1983, he stepped into the role of coaching on Team Canada for the Special Olympics World Games in Baton Rouge, Louisiana. He went on to coach in many provincial events. Morrison is also well known off the fields of play as a strong advocate for Special Olympics and people with intellectual disabilities, not just in his community but throughout the Lower Mainland. He is well known among municipal, provincial, and national politicians as a champion dedicated to raising funds and awareness for Special Olympics.  
Morrison has worked extensively with the Special Olympics programs in his community to host fundraisers, lobby businesses for sponsorship, and advocate Special Olympics with community groups. During this time, he has raised over $60,000 for Special Olympics in BC. 
 
Athlete Inductee: Kelsey Wyse
Special Olympics BC – Kelowna's Kelsey Wyse is an accomplished athlete and a strong supporter of her fellow athletes. Wyse has excelled in both summer and winter sports and has successfully competed in many Regional, Provincial, and National Games since she started in 2007. 
Competing in alpine skiing in her first Special Olympics Canada Games in 2008, Wyse qualified to be a member of Team Canada for the 2009 Special Olympics World Winter Games in Boise, Idaho. She accomplished great things on the slopes. This was her first, but not last, World Games appearance.
At the same time, Wyse also continued to shine in swimming. After years of diligent training, she delivered an unprecedented performance in the pool at the 2014 Special Olympics Canada Summer Games in Vancouver and was named to Team Canada for the 2015 Special Olympics International Summer Games in Los Angeles, California. There she reached the podium in multiple events and posted the fastest overall time of any female swimmer at those Games. 
In 2018, Wyse decided to move away from alpine skiing and into cross country skiing. She applied her diligent training and outstanding athleticism to become a successful cross country ski racer who made it to the 2020 Special Olympics Canada Winter Games. There she earned a spot at the Special Olympics World Winter Games in her third sport! 
Wyse was named to Special Olympics Team Canada in cross country skiing for the Special Olympics International Winter Games that were planned for Kazan, Russia. Due to the COVID-19 pandemic, those World Games had to be postponed until 2022, and then 2023. In 2022, after the members of Special Olympics Team Canada had put in 563 days of training, the Special Olympics International Winter Games in Kazan were cancelled due to political conflict. While this was very disappointing for all Team Canada members, Kelsey used all that training to win a spot on the Region 2 team for the 2023 Special Olympics BC Winter Games being hosted in Kamloops. 
Wyse is always recognized as a cheerleader for her fellow team members. Her bright smile, positive attitude, and work ethic make her a valued member of any team. She takes her training very seriously, often putting in many more hours on her own to ensure she is at her physical best. She listens to her coaches and works hard to take their coaching tips to constantly improve her sport skills. 
 
Local Builder Inductee: Vera Anderson
For 34 years, Coquitlam's Vera Anderson has worked tirelessly for Special Olympics BC both as a coach and in administrative roles. 
Anderson has coached many sports, but she was instrumental in the development of speed skating in B.C. Anderson and her husband Keith started the first Special Olympics speed skating program in B.C., and continue to host the only Special Olympics speed skating competition in the province. Anderson also established an annual softball tournament that sees teams from around the province compete year after year. 
In addition to her sport leadership, Anderson has been a valued volunteer powering local and regional operations. In 1989, Anderson stepped up and joined the Local Committee in Coquitlam, and soon after became the Local Coordinator where she spearheaded two provincial championship competitions, built strong local programs, and thoughtfully represented her Local at regional and provincial conferences and meetings.
Anderson went on to serve in the role of Regional Coordinator for 10 years, where she provided a valuable perspective to support her region and help the province. She diligently served as Chef de Mission for her regional teams, hosted effective regional conferences, and supported her seven Locals to develop new sport programs and strong committees. 
Over three decades, Anderson has contributed countless hours of passionate work on behalf of the athletes, coaches, and volunteers of Special Olympics BC. 
 
Provincial Builder Inductee: Ted Hirst
Ted Hirst has championed Special Olympics BC's vision and mission for more than 15 years, lending his skills, knowledge, voice, and connections in a constant effort to improve the organization and provide top-quality programs and opportunities for athletes. 
Hirst has served on the SOBC Board of Directors since 2009, as both a Director and as Chair. As one of SOBC's most generous donors, he has personally contributed significant funds to the organization, and has worked hard to encourage others to support Special Olympics so that no athlete is denied the opportunity to participate because they cannot afford it. 
Inspired by Hirst's leadership and example, his company Canaccord Genuity has become a significant SOBC sponsor that has contributed more than $200,000 over the past 10 years. Hirst has also inspired a number of other influential companies to support SOBC and athletes with intellectual disabilities. Hirst has participated in many Polar Plunges, secured countless auction items for every auction that we run, and recruited many new members to the organization over the years of his support. 
He is a strong advocate for people with intellectual disabilities experiencing inclusion and respect in sport and in the community, and having equal access to inclusive health care and healthy opportunities. Hirst has been an encouraging and supportive presence at many Special Olympics BC and Canada Games – he can be found cheering on athletes, welcoming families, and thanking volunteers. 
Hirst is a passionate, valued leader by example for Special Olympics BC's vision, mission, and values.
 
Sponsor Inductee: Safeway
From as early as 1986, Safeway has been a powerful champion of Special Olympics athletes and inclusion. In Special Olympics BC's early years, Safeway provided and initiated vital support by teaming up with their partners to raise funds and awareness in stores, and by providing products to feed athletes and volunteers at events. This support was critical at a time when Special Olympics BC was growing quickly and needed funding and resources to reach more athletes with intellectual disabilities all over the province.
When Safeway became part of the Sobeys family, their support of Special Olympics and leadership for inclusion continued and strengthened. To date, Sobeys banner stores across Canada have donated and raised more $6.4 million in food and funds to support Special Olympics. Provincially, Sobeys banner stores have donated more than $1 million to Special Olympics BC, and their support and generosity continues to grow each year. 
Today, Safeway creates vital support and opportunities for Special Olympics athletes by running annual fundraising campaigns in store, providing nutrition education for athletes and their families, donating products to feed athletes and volunteers, and providing employment opportunities for athletes nationwide. 
As part of their commitment to Special Olympics, Safeway believes in the abilities of people with intellectual disabilities to achieve their dreams, and they strive to make a meaningful impact where they work, live, and play. 
 
Sponsor Inductee: motionball
Founded by Paul, Mark, and Sean Etherington in 2002, motionball is a national charitable organization that introduces a new generation of supporters, sponsors, and volunteers to the Special Olympics movement through sporting and social events that integrate Special Olympics athletes and young professionals. 
Through their inspiring and inclusive events, motionball has raised more than $14 million for the Special Olympics Canada Foundation and Special Olympics athletes and programs throughout the country and right here in B.C. Thanks to the dedicated efforts of motionball volunteers, since 2005 more than $700,000 has been donated to Special Olympics BC. 
In addition to their vital fundraising, motionball leads inspiring, far-reaching awareness campaigns that help Special Olympics in our mission to open hearts and minds to the abilities of people with intellectual disabilities and create inclusive communities. motionball's #NoGoodWay campaign fosters inclusion by encouraging Canadians to eliminate the R-word from their vocabulary and empowers them to get their peers to update their attitudes too.
With their significant success in fundraising, their inspiring leadership for inclusion, and their volunteers' heartfelt passion for Special Olympics and our athletes, motionball has become one of our organization's most integral partnerships.
 
Photos from the ceremony can be found here.