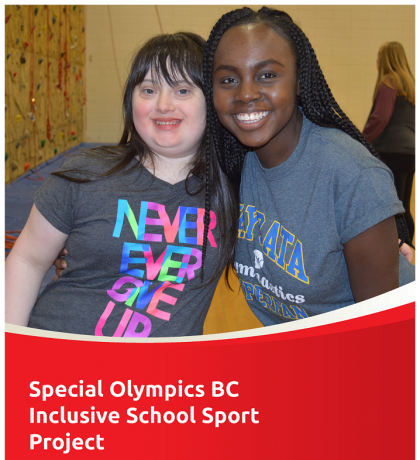 Do you know a school that values inclusion and the power and joy of sport? Special Olympics BC has the program for them!
SOBC is offering a new Inclusive School Sport Project, championed by inspiring students from Parksville's École Ballenas Secondary. The goal is to help students with and without intellectual disabilities pair up to stay active, connected, and positive through fun sports and skill-building activities.
In this program, students with and without intellectual disabilities will pair up to work together on developing sport-specific and healthy lifestyle skills. Student partners will meet at least twice a month to work on individual basketball and/or soccer skills (within the school's COVID-19 guidelines). 
They can also use their meeting times to build their nutrition and hydration knowledge together. They can also plan a Spread the Word>>Inclusion campaign to create inclusion and respect throughout their school community. 
The partners will all have the opportunity to gather monthly in a virtual meeting with any other Inclusive School Sport pairs, so they can discuss their progress and ideas.
After their weeks of training, all the Unified pairs will participate in a virtual sport skills competition to showcase their hard work and celebrate their success!
More than 25 students have already signed on to participate, and they are challenging other schools to join the fun! 
Ballenas students Adelaide Waldie and Tianna Fretz made this opportunity possible, with the help of Ballenas Physical and Health Education teacher and Special Olympics coach Jessica Kerr. They successfully applied for a Special Olympics Innovation Grant to fund the creation of the new program!
Kerr has been a great champion of the successful SOBC School Sport Competition programs hosted on the Island in non-pandemic years, and both Fretz and Waldie have been involved.
Fretz and Waldie wrote that Kerr's efforts "organizing and hosting a number of Special Olympics School sport tournaments (soccer) as well as taking students with IDs to various other sporting tournaments (basketball, athletics) … have inspired us to continue that work during these difficult times, in which we cannot be a part of sport teams or participate in major sport events through school. We also enjoy being a part of all of these initiatives in a regular year when [Kerr] is planning them, as they allow us to see the amazing skills our fellow students have that often are not showcase because they do not get the same opportunities to participate in sport."
Waldie wrote that her experiences with Special Olympics and the power of inclusion have "brought awareness that a lot of schools don't have an inclusive physical and health education class. I have seen the benefits and want to encourage others to get involved in and outside of school. Seeing the transformations throughout the year [with SOBC School Sport Competition programs] has really encouraged me to stay involved. The goal of our program is to get kids active and encourage them to participate in Special Olympics programs outside of school as well. The school Special Olympics competitions have brought competitive sport for all of students, and we are striving to provide unified opportunities because we have keen peer mentors that strive to be involved in our school's programs."
Fretz wrote that her experiences with Special Olympics and the power of inclusion have "helped me develop a stronger understanding of individuals with specific needs and how everyone is unique. I love how it creates an inclusive environment in class but also in the hallways. My goal is to encourage to my classmates to stay active for life. Seeing them excel during competition, motivates many to stay involved in not only physical and health education but to get involved in our community programs."
If you know of a school that is interested in inclusive programs, please contact SOBC Community Development Coordinator Sydney Hall, shall@specialolympics.bc.ca or 250-570-1455, so she can offer the program resources.
The benefits for the participating schools:
Students without disabilities hold more positive attitudes toward their peers with intellectual disabilities.
School communities where students with intellectual disabilities feel welcome, included, and part of all school activities and functions.
Perception of Special Olympics as a school and community partner that offers programming that benefits all students.
More students with and without intellectual disabilities playing sports together.
More students with intellectual disabilities participating in physical activity.
Unified partner groups leading a Spread the Word>>Inclusion campaign within their school to create awareness and respect.
A new generation of youth leaders leading the way to inclusion and respect for all.
Fretz and Waldie note, "Being a part of a Unified Generation means to us, equal opportunity for all of our fellow peers."
Their goals for the project are to:
"1) Foster equal opportunity within our school for fellow students with IDs to participate in sport & ensure that experience is positive; 
2) Showcase the incredible skills that the Unified pairs work together to develop through a virtual competition; 
3) Inspire other youth leaders and students with ID to come together and participate so that we can grow this Unified Generation."
In addition to the Special Olympics Innovation Grant, SOBC youth programs are generously supported by the Government of British Columbia, the Government of Canada, Tim Hortons, and Methanex.