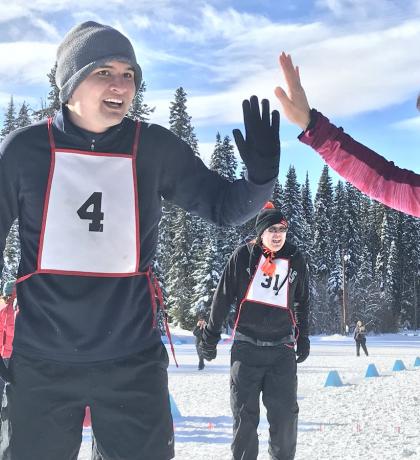 Exciting and true: In-person winter sport competitions are coming back in 2022! Regional Qualifiers will be hosted in winter sports all over the province. These competitions will be the qualifiers for the 2023 Special Olympics BC Winter Games.
There will be summer sports competitions in 2022 as well – stay tuned for more information to come about the summer sports competition cycle!
SOBC Director and athlete Ashley Adie joined SOBC Leadership Council Chair Donna Bilous to talk about competition and the return to sport on SOBC's November 2021 Facebook Live.
"Things are fired up," Adie said. "At my first practice back with the snowshoe crew, It was absolutely wonderful. The energy was way, way higher than a typical first practice of the season would be. It was so, so happy to be back with everybody. ... And at floor hockey, oh my gosh, the energy was just out of this world. That was the No. 1 thing I noticed, that the energy was way higher than normal."
Bilous, a dedicated speed skating coach, said her skaters were thrilled to return for this season with competitions planned and coming soon.
"That was the exciting part. For our athletes it is about that racing," Bilous said.
Register soon to be part of Special Olympics BC's safe return to sport and exciting return to competitions!