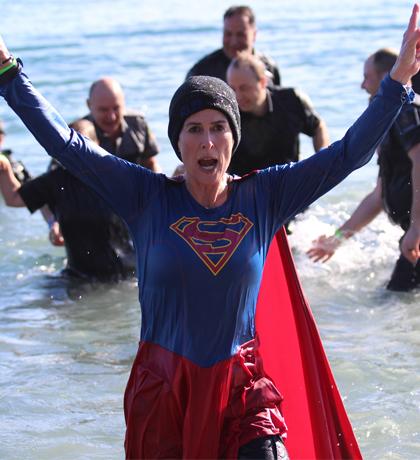 Who would want to take a chilly winter dip in the Pacific Ocean? As more than 300 Special Olympics BC supporters proved in 2019, the challenge requires Plungers who are adventurous, fun-loving, and ready to step up and support a great cause.
This was the best year yet for the Polar Plunge for SOBC. Both the Vancouver Island Polar Plunge for SOBC and the Vancouver Polar Plunge for SOBC presented by Westminster Savings Credit Union celebrated new highs in terms of funds raised and number of Plungers. 
Plunge season started off with a splash as more than 100 brave participants charged into icy waters at the Vancouver Island Polar Plunge on February 17. The event at Willows Beach raised more than $30,000 for SOBC – exceeding the total from last year's inaugural event.
Watch this video created by Julian Sketchley to see highlights from the Vancouver Island Polar Plunge
In her speech at the event, SOBC – Victoria athlete Sheenagh Morrison told participants how they are brave like Special Olympics athletes.
"Jumping into water that cold takes a lot of courage," she said. "It is an example of someone overcoming a barrier to accomplish something. In this case, overcoming the freezing water to take the Plunge and support others. This reminds me of what Special Olympics does for us athletes. Many of us have to overcome challenges to achieve our goals."
Polar Plunge for Special Olympics BC events are staged in partnership with the Law Enforcement Torch Run for SOBC. Many local agencies came out to support the event at Willows Beach, and for the second year in a row the Victoria Police Department were the top law enforcement fundraising team.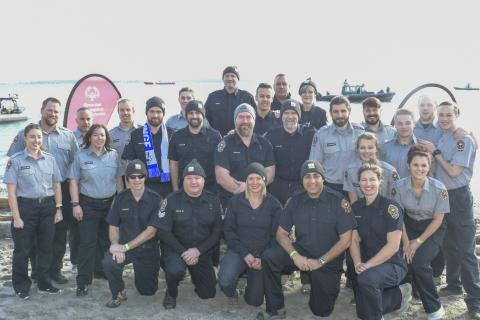 "The athletes – that is why we are here," Victoria Police Department Chief Constable and BC LETR Executive Council member Del Manak said in his speech. "We have an opportunity here to enrich the lives of people with intellectual disabilities. Think about that, to enrich their lives and to celebrate their personal achievements in sports."
Watch this CHEK News story on the Vancouver Island Polar Plunge
See photos from the 2019 Vancouver Island Polar Plunge 
Now in its fourth year, the Vancouver Polar Plunge at Kitsilano Beach has become a must-attend event for many brave Lower Mainland residents. One of these Plungers is Travis Lulay, who took the icy dip on March 2 alongside fellow BC Lions alumnus Angus Reid.
After announcing his retirement earlier that week, Lulay took to Twitter the day before the event and revealed that his Vancouver Polar Plunge attendance record would remain perfect. 
  
At the Plunge, Lulay spoke to SOBC – Abbotsford athlete and athlete reporter James Clifford about why he supports Special Olympics. 
"This is an organization that inspires – and not just the athletes but the coaches and the people involved," Lulay said. "So I just believe strongly in finding ways to support it, and what better way than to jump in English Bay?"

More than 200 people took the Plunge at Kits Beach and the event raised more than $100,000. Paul Brown and Charis Hogg from JACK 96.9 and Joey Kenward from Sportsnet 650 brought great energy as emcees of the fun and frigid event. 
Chris Melonie, VP Information Technology with Westminster Savings, says the Vancouver Polar Plunge seems to get bigger and better every year.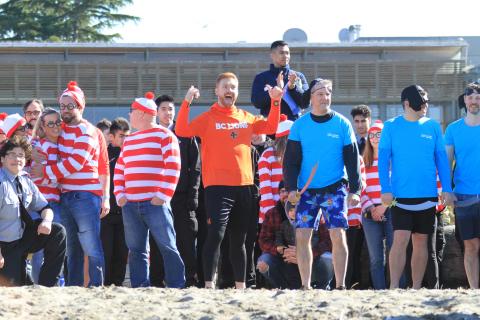 "I love to see all the community here supporting what we believe to be a very worthy cause," Melonie said to Clifford. "Special Olympics is a great way to help everyone have a chance of competing and building self-confidence and to be part of a community – I think it's very inclusive."
Creative costumes have become a staple of the Vancouver Polar Plunge. Highlights from this year's event include giant squids, superheroes, and "leprechauns for Lulay." The Westminster Savings team wore eyepatches and wielded cutlasses as they crashed into the waves dressed as pirates. 
As proud supporters of Special Olympics BC, it is usually easy to find Dueck Auto Group members at the Vancouver Polar Plunge. This year it may have been more difficult, as the entire team came dressed as Waldo from Where's Waldo?.
Along with the colourful costumes, a large variety of law enforcement uniforms got soaked at Kits Beach. Many Lower Mainland law enforcement agencies were represented at the event, and for the fourth straight year the top law enforcement fundraising team was the Vancouver Police Department.  
"We are really proud to support this event like we have for many years," VPD Chief Constable Adam Palmer said to Clifford. "It's an amazing cause and we want to do everything we can to support the athletes."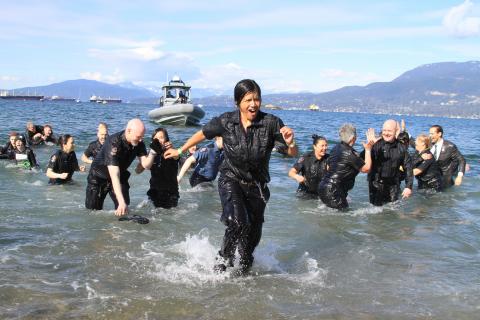 Watch SOBC – Vancouver athlete Mathew Schmiing and Vancouver Police Department Inspector Joanne Wild talk about the Plunge on Breakfast Television Vancouver
See photos from the 2019 Vancouver Polar Plunge 
Huge thanks to all the law enforcement agencies and volunteers who helped make these Polar Plunge for SOBC events so successful. 
We are grateful to Vancouver Island Polar Plunge Event Sponsors Serious Coffee Millstream Village, The Neal Estate Team, and Thrifty Foods. Sincere thanks to Vancouver Polar Plunge Presenting Sponsor Westminster Savings; Photo Booth Sponsor CN; VIP Warming Tent Sponsor Dueck Auto Group; Event Sponsors Safeway and Tim Hortons; and Media Sponsors City Television, JACK 96.9, KiSS 104.9, OMNI Television, and Sportsnet 650.