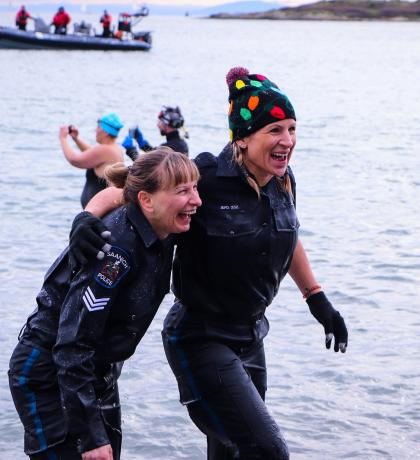 What does it take to muster up the courage to charge into the ocean waves on a cool winter's day? A crew of good friends, fun costumes, and a great cause were common themes at 2020 Polar Plunge for Special Olympics BC events. More than 350 shivering participants made waves this year in order to raise awareness and funds for SOBC.
Plunge season kicked off with the Vancouver Island Polar Plunge on February 16. Thanks to more than 150 devoted divers, the frigid and fun event raised more than $40,000 for SOBC. 
Polar Plunge for Special Olympics BC events are staged in partnership with the Law Enforcement Torch Run for SOBC. Many local agencies came out to support the event at Willows Beach, and for the third year in a row the Victoria Police Department were the top law enforcement fundraising team.
Victoria Police Department Chief Constable Del Manak and his VicPD crew pulled together to raise more than $21,000 for the event. A proud BC LETR Executive Council member, Manak shared why he supports Special Olympics and the Polar Plunge.
"These are some of the greatest, best, and most inspired athletes," Manak said to CTV News. "They're really good at what they do, and it gives them an opportunity to feel included."
Oak Bay Police Department members also showed their unwavering support for SOBC at the Vancouver Island Polar Plunge.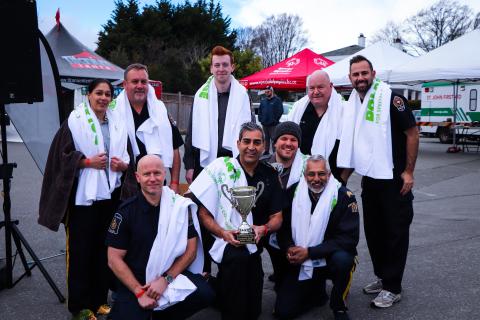 "I think it's a great way to get everyone together and be inclusive with the athletes," Oak Bay Police Constable Sheri Lucas said. "The athletes are able to talk to members of the community, and I know for me – once I talked to one member I was hooked. I think when people see the inspiration that these athletes have for their sport and for each other, it will just help build a better community of inclusion."
The next wave of Plungers took the icy dip at the Vancouver Polar Plunge for SOBC presented by Westminster Savings Credit Union on March 7. Impressive amounts of law enforcement champions and other members of the community gathered at Kitsilano Beach to enjoy the festive atmosphere and mingle with other attendees prior to Plunging. More than 200 Plungers made the frigid run into the water, raising more than $100,000 for Special Olympics BC.
Roaming the grounds with the Delta Police Department was an adorable four-legged Plunger named Briggs. The enthusiastic dog took part in the first-ever Puppy Plunge for SOBC, which was part of the Vancouver event. He set the bar high for future puppy Plungers, raising more than $500 and taking home the fundraising award for top dog. Kudos to this canine and the other furry fundraisers for paving the way for Puppy Plunges to come. We are grateful to Puppy Plunge Gift Sponsor Petcurean for providing these good dogs with awesome treats!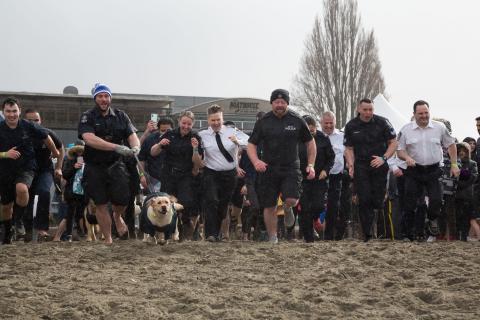 Many Vancouver Polar Plunge participants took full advantage of the opportunity to sport their favourite costumes, coming dressed as emojis, bushy-tailed bunnies, lucky leprechauns, smiling sailors, and much more. A variety of law enforcement uniforms also got soaked at the event, as members of many Lower Mainland agencies got bold and cold. 
"As the chief of police, I go to many community events, as do many of my team. There are very few events that are as important to me as this one," North Vancouver RCMP Superintendent Ghalib Bhayani said to SOBC – Surrey athlete Susan Wang. "The opportunity to be in the community for a cause, not just being out here with my team for a swim, but we actually have a cause here today – and that cause is very special to us."
A pride of BC Lions also took the Plunge to show their support for Special Olympics BC. Alumnus Travis Lulay got freezin' for a reason alongside players Joel Figueroa, Claudell Louis, Jamel Lyles, Phillip Norman, and Andrew Peirson. 
The great turnout at Polar Plunge events is a reminder of the amazing community that supports Special Olympics BC. Athletes coming together with SOBC supporters to take the Plunge is a heartwarming and unforgettable experience for all.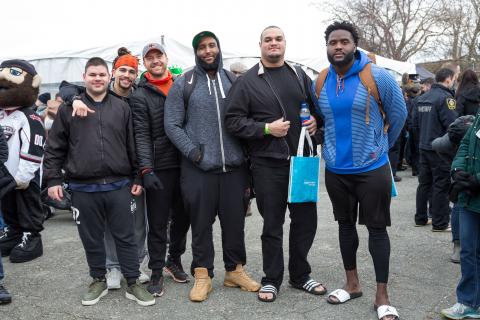 Sheila Fynes attended the Vancouver Island Polar Plunge with her son, SOBC – Victoria athlete Michael Langridge. An accomplished competitor and leader in his community, Langridge served as the event's inspiring athlete speaker.
"Special Olympics is the best thing that ever happened to our family," Fynes said. "It is all of his social life, it's where he met his friends. He went from a child who had no social life whatsoever, no friends, and had no confidence in himself or what he could do, to this young man who's stood on the world stage and has given speeches to a group of 600 people. It is wonderful."
We are so grateful to all the volunteers and law enforcement agencies that made these Polar Plunge events so successful! 
Heartfelt thanks to Vancouver Island Polar Plunge Photo Booth Sponsor McIntosh Mortgages, Volunteer Sponsor The Neal Estate Team, Hot Beverage Sponsor Serious Coffee Millstream Village, and Breakfast Sponsor Thrifty Foods. 
We are also very grateful to Vancouver Polar Plunge Presenting Sponsor Westminster Savings, VIP Warming Tent Sponsor Dueck Auto Group, Breakfast Sponsor Safeway, Hot Beverage Sponsor Tim Hortons, and Media Sponsors Citytv, JACK 96.9, KiSS RADiO, OMNI Television, and Sportsnet 650.