We're so proud of everyone across the province who participated in the 2022 Polar Plunge for Special Olympics BC presented by Prospera Credit Union!
These brave Plungers raised $250,000 to support Special Olympics BC's sport, youth, and health programs.
The pandemic has deepened the isolation experienced by far too many people with intellectual disabilities. By participating in the #Plunge4SOBC, supporters showed they care about people with intellectual disabilities and creating inclusion in their communities. 
The event kicked off on March 5, and there were a lot of chilly times before it wrapped up on March 20. The cold was temporary, but the warm memories will last forever as Plungers took the chilly challenge to support a great cause. 
"We've been doing this for many years and it's something we're really proud to be a part of in supporting the amazing athletes in their journey," said Vancouver Police Department Chief Constable Adam Palmer.
Watch VPD members get bold and cold at Kitsilano Beach. 
This year, the Polar Plunge for Special Olympics BC will play a vital part in helping athletes get back to the sports and the SOBC family that matter to them. Special Olympics BC volunteers, athletes, and supporters around the province are currently working hard to reopen their in-person programs, with strong SOBC safety protocols in place.
"It brings joy to the athletes to go back to sports," SOBC – Abbotsford athlete James Clifford said to CityNews.
Watch James and VPD Inspector Joanne Wild talk about the Plunge.
From Tofino to Cranbrook, White Rock to Smithers, and everywhere in between – brave SOBC supporters stepped up to get bold and cold.
Watch highlights to see some of the many ways Plungers got cold and creative. 
Check out social media posts from Plungers across the province.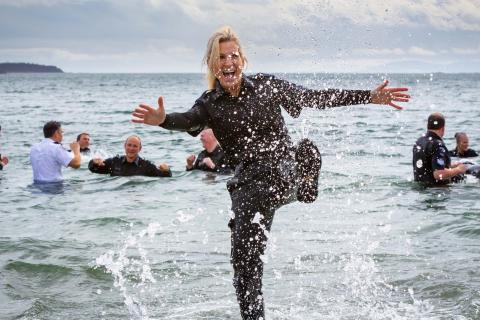 Celebrating #Plunge4SOBC award winners
Congratulations to all of the event's top fundraising individuals and teams!
Special Olympics BC – Victoria athlete Sheenagh Morrison was the top SOBC athlete, raising just over $2,600. 
"I love Special Olympics," Sheenagh said. "It's changed my life. I've made so many friends and I have more confidence in myself. I believe in myself more."
Watch her talk about the Plunge on CHEK News.
Find all the event's award and prize winners.
Creating inclusion with the Polar Plunge
All across British Columbia, Special Olympics BC athletes and supporters found opportunities to come together to take the Plunge. This included many law enforcement agencies and other organizations teaming up with SOBC athletes in their communities. 
In Trail, what started as a three-person Plunge turned into more than 20 people taking the icy dip.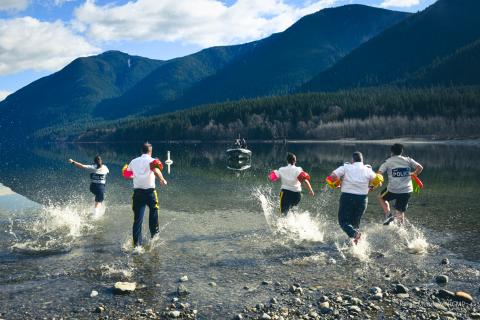 SOBC – Trail athlete Jake Miller and volunteers Chris and Jaxon Kuchar were joined by Trail Smoke Eaters players and nine members of the U13 Quesnel Thunder, who were playing at the provincial hockey championship in Trail. 
Trail Kiwanis also pitched in with a donation, and together, the Trail Plungers raised about $2,000.
Read this Trail Times article to learn more about Jake, Chris, and Jaxon
Finishing strong with the Closing Ceremony
The 2022 Polar Plunge Closing Ceremony took place on March 23.
It was hosted by SOBC – Abbotsford athlete James Clifford alongside Metro Vancouver Transit Police Deputy Chief Officer Barry Kross and Port Moody Police Department Deputy Chief Constable Leslie Stevens.
The hosts showed Plunge highlights and handed out coveted awards, like best plunge video and best costume. 
Thank you for making a difference! 
We are so grateful to Plunge participants, event donors, the Law Enforcement Torch Run for Special Olympics BC, and the event's wonderful sponsors!
  Presenting Sponsor: Prospera Credit Union
  Costume Contest Sponsor: Dueck Auto Group
  Video Contest Sponsor: The Neal Estate Group
  Television Sponsors: Citytv and OMNI Television
  Radio Sponsors: CityNews Vancouver, JACK 96.9, KiSS Radio, and Sportsnet 650 Vancouver