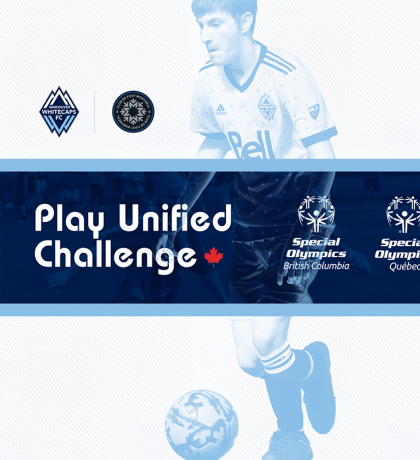 CF Montreal, Vancouver Whitecaps FC, Special Olympics Quebec, and Special Olympics BC are teaming up for the 2021 Play Unified Challenge!
This friendly virtual competition will be B.C. vs Quebec! Special Olympics BC will select 11 athletes (all genders) who will be paired with players from the Whitecaps FC BMO Academy and Girls Elite REX. They will square off against 11 athletes from Special Olympics Quebec, who will partner with players from the CF Montreal Academy.  
Competition will run from September 7 to October 31. Participants will complete new soccer and fitness challenges every other week. 
The results from each challenge will be recorded, and the team that wins the most challenges will be crowned champions!
SOBC athletes can apply by working with a coach to review the requirements and complete the nomination. Please click here to find the application form and selection process.
Please click here for the Details and application form
Deadline to apply: Wednesday, August 4, 2021
Learn more
The CF Montreal Whitecaps FC Special Olympics Play Unified Challenge aligns with the MLS WORKS cornerstone of Soccer For All, which advocates for an environment of diversity and inclusion through leveraging the power of sport. 
"The 'Caps are really excited to partner with CF Montreal and Special Olympics," said Jennifer Scott, director of Diversity, Inclusion and Community. "The initiative aligns with our own club's pillars of building community through sport and fostering diverse and inclusive spaces and practices."  
"We've been working in partnership with Special Olympics Quebec for over 20 years," said Véronique Fortin, director of Community Relations at CF Montreal. "This project allows us to continue to offer these unique and inclusive experiences to our athletes and our unified players despite the pandemic. This year, we are very excited to take on a new opponent, Vancouver Whitecaps FC." 
Special Olympics Quebec and BC are Chapters of Special Olympics, an international organization dedicated to enriching the lives of people with intellectual disabilities through the transformative power and joy of sport. More than 45,000 athletes with intellectual disabilities are registered in Special Olympics year-round programs across Canada. They are supported by over 21,000 volunteers including over 12,000 trained coaches. 
"Special Olympics BC is thrilled to team up with our friends from Whitecaps FC, CF Montréal and Olympiques Spéciaux Québec to create this inclusive and empowering experience," said Lois McNary, SOBC Vice President, Sport.  
"This is an important opportunity for our athletes to build their skills, showcase their abilities, and strengthen friendships with their MLS teammates. And we know the competition will be fierce! We're grateful to these two MLS clubs who are long-standing champions of inclusion and respect for athletes with intellectual disabilities."