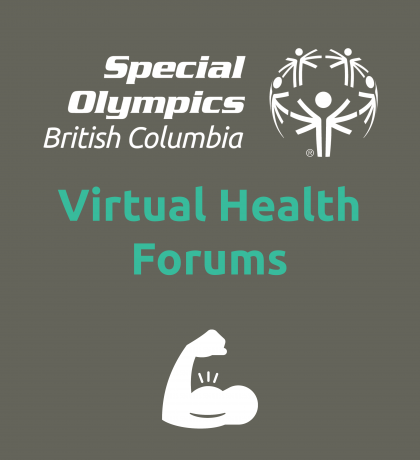 Special Olympics BC is offering a series of Virtual Family Health Forums! We wanted to create virtual opportunities for SOBC athletes, coaches, parents, and supporters to connect, learn, and discuss important health topics.
We are so excited to be teaming up with some insightful facilitators for Zoom calls where you can learn, discuss, and ask any questions you might have.
Through May and June, we will be offering:
Healthy Eating Virtual Health Forums for athletes and coaches
Mental Wellness Virtual Health Forums for athletes
Mental Wellness Virtual Health Forums for parents, coaches, and supporters
To help create spaces for conversations and true connections, the forums will be hosted by Region, and some will have small numbers at first. If there is interest, we will look at hosting additional forums, so please do sign up for the waiting list if your event fills up!
Read below to learn more about each SOBC Virtual Health Forum, and find the date and registration info for the events in your Region!
Mental Wellness Virtual Health Forum with Kimberly Rutledge
Special Olympics British Columbia is very excited to bring two different Virtual Health Forums focused on the topic of mental wellness, presented by Kimberly Rutledge. One of the forums will be for athletes only, and the other will be open to any supporters such as coaches, family members, caregivers, and workers.
These valuable Zoom calls will cover mental wellness topics such as:
what does feeling unwell look like,
how to know if you or your friends are struggling with their mental health,
the types of stress that exist, and
how to use positive stress to perform your best.
Participants will also have the opportunity to use a Mental Wellness Booklet that Kimberly has created for them.
Kimberly Rutledge brings a wealth of experience and passion for mental health advocacy, education, and the sciences – plus a great family history of involvement in Special Olympics! Kimberly is currently working towards her double bachelor's degree of science in psychology and biology at UBC Okanagan, and works as a research assistant in community health.
Kimberly was drawn to the field of psychology because of her passion for psychological health and wellness, and promoting resiliency within communities. She plans to pursue her master's degree in clinical neuroscience, and to use the knowledge she gains to transform the way we provide support within health care.
Kimberly is passionate about creating opportunities for all children to succeed, and volunteers her time as a STEM educator for classrooms in B.C. She is also a public speaker and mental health advocate through Jack.org, and is currently working on a project to promote inclusive education.
Kimberly is excited to be working with Special Olympics BC on the Healthy Athletes program!
Healthy Eating Health Forum with Joel Barohn
Special Olympics British Columbia is very excited to bring to you a Virtual Health Forum focused on the topic of Healthy Eating, presented by Joel Barohn, a Nutrition Educator with the BC Dairy Association.
Joel is passionate about nutrition, and looks forward to talking with Special Olympics athletes and coaches about healthy eating. In these forums, he will talk about nutrition, proper portion sizes, the importance of food groups, and how to eat a balanced diet. Joel will also be walking athletes and coaches through a healthy eating workbook called "Check on Balance."
Joel completed his training in dietetics in 2014 from the University of Kansas Medical Centre in Kansas City, Kansas, where he had the opportunity to train at both the University of Kansas and University of Texas Athletic Departments in sports nutrition. In addition to working as a nutrition educator at the BC Dairy Association, Joel is an Adjunct Professor at UBC and works with the UBC athletic department on post-game nutrition recovery projects.
Watch Joel on the May 11 #SOBCMayInMotion Facebook Live
Logistics and questions
The forums will be hosted virtually on Zoom. Registered participants will be sent the link to access the Zoom meeting 24 hours before the forum. Participants won't be required to turn on their video function if they do not feel comfortable – it is entirely up to them!
In order to create real spaces to talk and share, registration in some of these forums will be limited. The healthy eating forums will be limited to 12 athletes and 6 coaches, and the athlete mental wellness forum will be limited to 25 athletes. The Family Forum will be unlimited. If your Region's event fills up, please please please register for the waiting list – if we have enough interest, we will do our very best to offer additional forums to meet this demand!
We will also be making resources available to everyone online after the forums.
If you have any questions or concerns please feel free to contact SOBC Sport Coordinator Marlow de Paul at mdepaul@specialolympics.bc.ca // 604-737-3081.