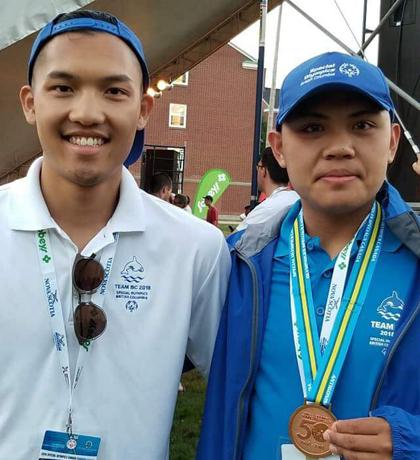 Special Olympics BC – Vancouver's Wilson Wong says his favourite thing about SOBC is getting to know the amazing athletes and volunteers.
Wong recently became SOBC – Vancouver's Co-Local Coordinator, and before that he served as Volunteer Coordinator. Also a dedicated coach, Wong helped coach many sports through his Local before deciding to focus on swimming and track and field. Wong was a member of Special Olympics Team BC 2018, and said attending the 2018 Special Olympics Canada Summer Games in Antigonish, Nova Scotia was a fantastic experience.
Wong wants others to know that SOBC – Vancouver's sport programs provide empowering opportunities to athletes of all skill levels. Also, volunteering with Special Olympics is very rewarding experience, and there are many opportunities to get involved.
When did you start with Special Olympics, and how did you get involved?
I started coaching with Special Olympics in early 2015. At the time, I was still a university student looking for volunteering opportunities. One of my professors brought in an athlete to tell us all about his experiences. Special Olympics was quite popular among my classmates so I thought, "Why not?" In that first year, I probably coached at every single sport until I decided to commit to swimming, track and field, and running club. I eventually went to the 2017 SOBC Summer Games in Kamloops and then National Games this past August.
In 2017, I joined the Local Committee as Volunteer Coordinator and I was able to recruit new coaches across the community. And this past year, I moved into the Co-Local Coordinator role, as there was a need.
What has been your most memorable Special Olympics experience?
My most memorable experience was attending the 2018 Special Olympics Canada Summer Games in Antigonish, Nova Scotia as a swim coach. It was surreal spending an entire week with coaches and athletes from all across the country. I also had the rare opportunity of being selected along with an athlete I had been coaching for years back in Vancouver. I am grateful to have seen his growth and development every step of the way.
What is your favourite thing about being involved with SOBC?
For me, it definitely would be the opportunities to meet and speak with athletes and volunteers from many different walks of life. There are so many stories to hear about, lessons to learn, and memories to be made.
What would you like others to know about SOBC – Vancouver?
Our Local was first formed in 1982 and we offer almost 30 different programs for our athletes to compete in. We believe in providing just as many opportunities for developmental athletes as we do for our high-performance athletes. We are proud to offer introductory and developmental programs for floor hockey, weight training, softball, golf, and skating.
We are one of the biggest Locals in the province and we are always looking for new volunteers. Come join us!