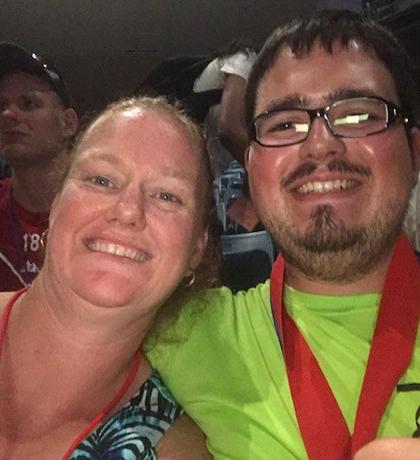 A dedicated and versatile volunteer, Special Olympics BC – Mount Waddington's Melinda Dennison has been a driving force in the growth of her Local.
Along with serving as Local Coordinator, Dennison has supported SOBC – Mount Waddington in a number of roles, including Fundraising Coordinator, Program Coordinator, Secretary, Volunteer Coordinator, and as a coach. Dennison is always eager to step up and help the Local in any way she can, and she has worked diligently with other SOBC – Mount Waddington members to develop the Local using approaches that best suit their community.
Dennison has also worked hard to help provide SOBC – Mount Waddington athletes with opportunities to experience the joy of competition. This includes encouraging coaches to seek out competitions and coming up with new fundraising ideas to help cover travel costs.
Dennison has enjoyed seeing SOBC – Mount Waddington grow since it was established in 2014, and she looks forward to helping it develop even further. She says the Local welcomes anyone who would like to come visit their inspiring community.
When did you start with Special Olympics, and how did you get involved?
I started with Special Olympics when we first became a Local in February, 2014, so about four years ago. At that time I became Program Coordinator and the Assistant Coach for swimming and bowling.
What has been your most memorable Special Olympics experience?
This one is by far the hardest to answer! Can I answer more than one? Firstly, becoming a Local in our Region, and then being selected to be Region 6 mission staff for the 2017 Special Olympics BC Summer Games. But up there with the Games must be hosting our mini fun powerlifting competition with SOBC – Campbell River coach George Maclagan and Team Dog and our Team Iron Chisel.
What is your favourite thing about being involved with SOBC?
Finding a love of a sport is something I never thought I would! After being at Games, powerlifting has opened up my eyes so much that I love it so much! It's amazing to see the looks on the faces of the athletes when you know and they know they have reached their goals. Their reactions, joy, and excitement is something no one can explain unless you are in the moment with them. Thank you, Team Iron Chisel and Team Dog!
What would you like others to know about SOBC – Mount Waddington?
We may be a small and remote Local with only four powerlifters and seven swimmers, but we are climbing up from only having four swimming athletes when we started in 2014. We hope to grow even more. We also hope to start bocce this spring. We welcome anyone who wants to come and visit.