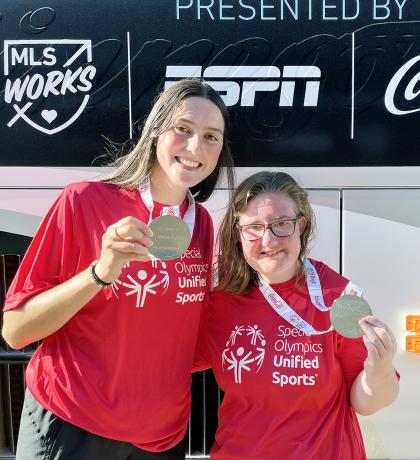 The Special Olympics Unified Sports All-Star Soccer Experience presented by MLS WORKS, ESPN, and Coca-Cola is an annual opportunity to showcase the athletes and partners who participate in MLS and Special Olympics programming in local communities throughout the United States and Canada. 
The 2022 Special Olympics Unified All-Star Experience took place from August 8 to 11 in the Twin Cities of Minnesota as part of 2022 MLS All-Star Week festivities.
Based on their successful involvement in local programs and in travelling tournaments, Special Olympics BC – Coquitlam soccer player Amy Nelson and coach Maya Lewis were nominated by SOBC and Vancouver Whitecaps FC to be our 2022 All-Star delegation. They were outstanding representatives of our province, and outstanding teammates to everyone in the Special Olympics Unified All-Star Experience!
Throughout the experience, MLS WORKS, ESPN, Coca-Cola, adidas, and partners went all-out to make the Special Olympics athletes and partners feel like the superstars they are. From full kits and new adidas shoes, to branded transportation and tailored locker-room experiences, the Special Olympics Unified teams received first-team treatment!
The MLS Special Olympics Unified All-Star Game itself was a hard-fought match, with many moments of outstanding sportsmanship as well.
"My teammates were very nice and very supportive. The game was really competitive!" Nelson said after the All-Star Game. "The experience has been really great. It's something I've never done before and may never get to do again. I feel pretty lucky to have this opportunity!"
"It was an amazing experience! I was really grateful to go out there and represent the Vancouver Whitecaps and SOBC," Lewis said, expressing sincere gratitude to all the Special Olympics Unified All-Star Game players, coaches, and supporters.
Read the match recap on MLSsoccer.com 
Special Olympics BC is extremely grateful to Nelson and Lewis for representing us so well, and to our amazing friends at the Whitecaps for their longtime support of SOBC athletes and programs. We also sincerely thank the dedicated champions of inclusion at MLS WORKS, ESPN, and Coca-Cola.
"Special Olympics BC is grateful for this remarkable experience for Amy and Maya to show their skills and their inspiring spirit of inclusion. They were outstanding representatives of SOBC and Whitecaps FC both on and off the pitch," says Lois McNary, SOBC Vice President, Sport. "The Whitecaps and MLS truly champion Special Olympics athletes and treat them like the superstars they are. They set a game-changing example of respect and inclusion of people with intellectual disabilities." 
Nelson was a strong participant in the 2021 Vancouver Whitecaps FC CF Montreal Special Olympics Unified Challenge. In 2022, she successfully competed with her SOBC – Coquitlam Vipers team in the Special Olympics Yukon Soccer Invitational and the SOBC Super Summer Series Soccer Tournament.
In her decade as a Special Olympics athlete, this positive and dedicated athlete has competed in many soccer tournaments and has also competed in two Special Olympics BC Summer Games for swimming.
Lewis has been a volunteer coach with Special Olympics for several years, and has played soccer for even longer. She says, "Two of my passions in life are helping people and soccer. I have played soccer for about 14 years, and it has been a big part of my life. I am so grateful to have been able to work with Special Olympics and be a part of this incredible community and program. Being able to put two of my passions together through this program has been amazing, and I hope to continue to be a part of Special Olympics for many years to come!"
Nelson lives in Port Coquitlam, B.C., and works for a local grocery store shopping for people and stocking shelves. In her spare time, she crochets and knits. Lewis hails from Port Moody.