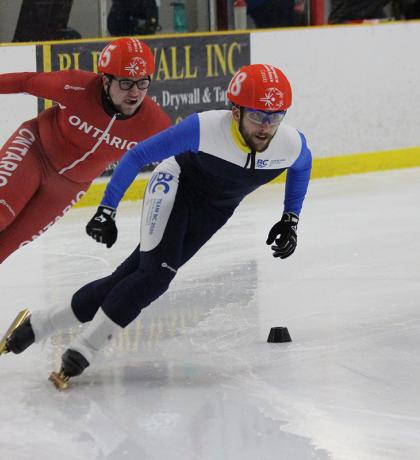 Congratulations to Special Olympics BC – Langley athlete Matthew Williams, who has been named one of two 2020 Special Olympics Canada Athletes of the Year! Williams was announced as a national award winner in SOC's December 3 virtual ceremony, broadcast on the TSN Facebook Page.
Williams is a determined, dedicated athlete known for his exemplary commitment to his training, his constant pursuit of self-improvement, his inspiring sportsmanship, his kind and humble nature, and his outstanding sport achievements.
In his 15 years as a Special Olympics athlete, Williams has medalled in speed skating at multiple National Games and at the 2017 World Games. Most recently, Williams earned four personal bests in all four of his speed skating events at the 2020 Special Olympics Canada Winter Games. He has commendably represented B.C. in six National Games for speed skating, basketball, and athletics, and competed for Canada in two World Games for speed skating and basketball.
Williams is also known for his achievements and leadership outside sport. He is currently valued member of the SOBC Leadership Council, and is a former Chair of the Special Olympics Global Athlete Congress, member of the Special Olympics International Board of Directors, and SOI Sargent Shriver Global Messenger. 
Watch the national award ceremony
"Special Olympics has given me friendship, respect, inclusion, better health, great coaching, and most of all, let me become a champion," Williams said in the ceremony.
Watch the 2015 TEDxVancouver talk by Williams
Congratulations to Matthew and to all of the deserving Special Olympics Canada award winners!