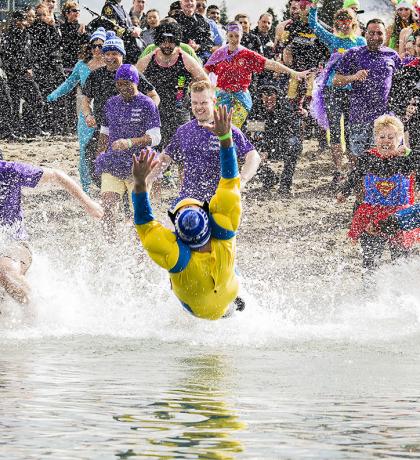 The sun shone but the sea was frigid as brave souls got bold and cold at the first-ever Polar Plunge for Special Olympics BC in Vancouver.
The 2016 Polar Plunge drew 90 Plungers to get freezin' for a reason at Kitsilano Beach on March 5. Participants raised more than $30,000 to support SOBC.
The Polar Plunge, staged in partnership with the BC Law Enforcement Torch Run, saw 40 members of the Vancouver, Abbotsford, and West Vancouver police departments, Metro Vancouver Transit Police, and Canada Border Services Agency take the Plunge alongside teams, businesses, and individuals looking for a festive but chilly time.
"Once the teeth stopped chattering, we realized how much fun this was and how much money we were able to raise for Special Olympics," VPD Insp. and BC LETR Executive member Howard Chow said. "The costumes, the hard work from the planning committee, and the support from the public and law enforcement community all contributed to the event's incredible success. Thank you to everyone for taking part. I hope to see everyone shivering beside me at the 2nd annual Polar Plunge!"The VPD took the prize for top law enforcement fundraising team, while Team Dueck was the top fundraising team, and Greg Keith of Dueck Auto Group was the top individual fundraiser.
BC Lions quarterback Travis Lulay, a longtime Special Olympics supporter, and national women's soccer team players Emily Zurrer and Selenia Iacchelli got in the game to Plunge. Former Sportsnet Central co-host Caroline Cameron, who pre-Plunged with Breakfast Television reporter Greg Harper, emceed the action, and City Television and OMNI Television generously supported the event as Media Sponsors. Michelle Collens, Manager, Sport Hosting, City of Vancouver attended the event as a representative of the City of Vancouver, which provided the perfect venue at scenic Kits Beach.
SOBC Treasurer Colin Yakashiro came out to plunge with his team of colleagues from Grant Thornton, the Purple Polar Bears.
"We've got about 10 people coming from our office from all different backgrounds," Yakashiro said before taking the Plunge. "We thought it would be a great way to team build and raise some money for Special Olympics. It's going to be a great day."
A dozen colourful characters in the costume contest posed onstage for a cheering crowd. Keen-eyed judges VPD Chief Adam Palmer, SOBC Board of Directors member Michael Campbell, and SOBC – Vancouver athlete Sheryl Spurr voted Jamie Pitblado of the BC Lions Football Club and Amy Jorgensen, dressed as a Felion cheerleader and a lucha libre wrestler respectively, as the best-dressed Plungers.
At the call to Plunge, spectators crowded the shore as the law enforcement contingent, fully dressed, assembled behind VPD bagpiper Cst. Cal Davis for a ceremonial send-off. VPD Chief Adam Palmer, APD Chief Bob Rich and Deputy Chief Mike Serr, Transit Police Deputy Chief and BC LETR Executive member Chief Barry Kross, and WVPD Deputy Chief Shane Barber led the charge into frigid waters. Close on the heels of law enforcement came a cast of superheroes, celebrities, and kooky characters running, splashing, and laughing in the chilly water.
The crowd of participants and passersby were treated to an inspiring Opening Ceremony speech by SOBC – Surrey athlete Michaela Robinson.
"On behalf of myself and all Special Olympics athletes, I would like to say a big thank you for all you do to support Special Olympics BC and especially for taking the Polar Plunge today," Robinson said to the crowd. "Over the years I have participated in swimming, figure skating, bowling, rhythmic gymnastics, and in each one of these sports I have been encouraged and supported along the way by amazing volunteers and coaches. I have gained a confidence and belief in myself that goes far beyond being able to do a spiral on ice. I have made friendships that will last forever and that will get stronger with time."
Guests of all ages had fun checking out police department operations vehicles, along with the VPD mounted, marine, and canine units on display. Teams of VPD cadets and SOBC athletes roved the beach raising awareness and accepting donations.
Thanks to Nordstrom, CN, and the Vancouver Police Credit Union for generously supporting the Polar Plunge with donations, and to everyone who helped make the inaugural Plunge in Vancouver such a great success. We hope even more brave Plungers will come out next year to enjoy SOBC's new tradition of freezing fun!
Coverage of the 2016 Polar Plunge:
Abbotsford Police Department, March 7
The Province, March 5
CKNW, March 5
Tyler Bennett, BCIT journalism student, March 5
Breakfast Television, March 2