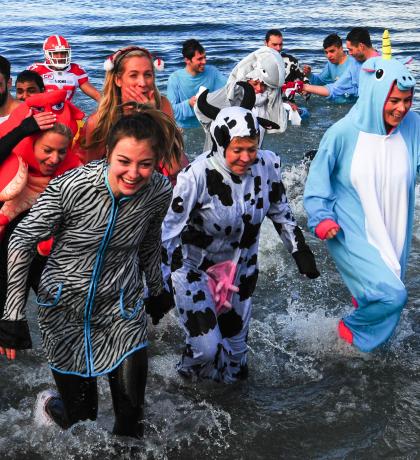 Brave participants in colourful costumes made a huge splash at the 2017 Polar Plunge for Special Olympics BC presented by Westminster Savings Credit Union on March 4.
The frigid and festive fundraiser brought in more than $85,000 for SOBC, almost three times as much as last year's inaugural Vancouver Polar Plunge, with 189 individuals registering to get freezin' for a reason at Kitsilano Beach.
Staged in partnership with the BC Law Enforcement Torch Run, the Polar Plunge saw members of the Vancouver, Abbotsford, and West Vancouver police departments, Coquitlam and North Vancouver RCMP detachments, Canada Border Services Agency, Justice Institute of British Columbia, and Metro Vancouver Transit Police show their support for SOBC alongside corporate teams, students, and other individuals.
"The number of participants and spectators in attendance clearly shows we are accomplishing our goal of creating awareness for athletes with intellectual disabilities and raising money to help out athletes and their families," Transit Police Deputy Chief and BC LETR Executive Council member Barry Kross said.
"I think seeing so many of my law enforcement colleagues supporting the Polar Plunge is awesome and I am not at all surprised at the turnout," Deputy Chief Kross said. "Every last one of them understands how blessed we are to have the careers that we have and they are always happy to give back and support the communities that we serve."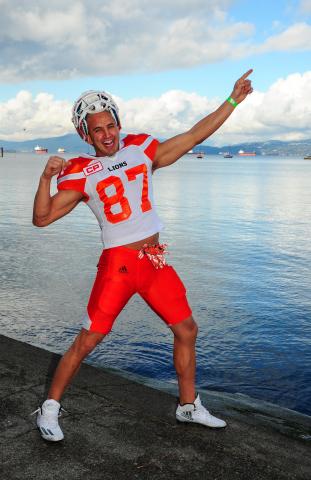 Breakfast Television's Dawn Chubai emceed the fun-filled event, where participants also competed in a colourful costume contest and heard inspiring speeches from the likes of Kross, crowd-pleasing representatives from Westminster Savings, and SOBC – Vancouver athlete Sheryl Spurr.
"Special Olympics gives athletes like me life-changing opportunities. This would not be possible without events like this or people like you. Special Olympics athletes are brave, and you are brave, too!" Spurr told Plunge participants during her speech.
All the top fundraisers from last year's Polar Plunge successfully defended their titles at the 2017 event. The VPD secured the prize for top law enforcement fundraising team, Team Dueck took the award for top fundraising team, and Greg Keith of Dueck Auto Group earned the title of top individual fundraiser.
The law enforcement teams plunged first, with Transit Police Chief Doug LePard, VPD Chief Adam Palmer, and Abbotsford Police Department Chief Bob Rich leading them into the icy ocean. They were followed by waves of Plungers dressed as wild animals, lucha libre wrestlers, and so much more!
MLA David Eby, Vancouver Park Board Chair Michael Wiebe, and BC Lions players Emmanuel Arceneaux, Marco Iannuzzi, and Travis Lulay were among the brave participants who took the Plunge. After emerging from the freezing water, second-time Plunger Lulay shared his reason for getting bold and cold with Chubai.
"I love Special Olympics! This is what it's all about – raising funds for an awesome cause – so I'm OK getting wet for it!" Lulay said.
This year, the Vancouver Polar Plunge welcomed Westminster Savings as Presenting Sponsor. The sponsorship is part of the credit union's new three-year provincial partnership with SOBC to help change lives through sport.
"I'm plunging because we are a sponsor of the Polar Plunge and we are also a sponsor of Special Olympics BC. We have a three-year partnership with Special Olympics and over the next three years we are going to contribute over $200,000 to this wonderful cause," said Westminster Savings Senior Vice President Consumer Operations and Chief Customer Experience Officer Maury Kask before taking the Plunge. "I think the Plunge today is going to be cold. It's already cold outside, and I am already cold, so I think going in the water is going to intensify it, but I'm ready to go!"
The Polar Plunge was also supported by Media Sponsors 96.9 JACK FM, City Television, and OMNI Television, and Event Sponsors Dueck Auto Group, Safeway, and Tim Hortons. KiSS RADiO was on site to pump the tunes for participants on Plunge Day.
The event also benefitted from fantastic volunteers, including VPD cadets and SOBC athletes who worked to raise funds and awareness for SOBC throughout the event.
Big thanks to all the amazing Plungers, sponsors, and volunteers who made the 2017 Polar Plunge a success!