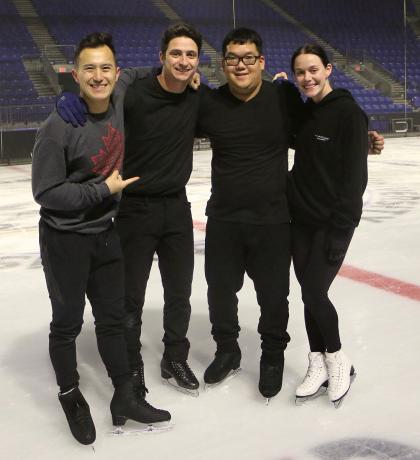 "What an unforgettable experience!" Those are the first words that come through my mind when asked about my participation in the Rock The Rink tour.
It was such a surreal moment, especially when I was practicing on the ice being surrounded by many of the top skaters in the world. This journey was truly overwhelming. It took me on a ride of mixed emotions from being scared and stressed to feeling excited, happy, and in disbelief.
I was very nervous going out on the ice. However, the audience was amazing. I could feel their encouragement. Also, being able to show my routine amongst the top skaters was no doubt a captivating experience.
I am thankful to Rock The Rink, Special Olympics, my coach Jessica Chapelski, my friend Marc Theriault, and to all those who came to support me. This is truly a dream come true.
-Alexander Pang
The nationwide Rock The Rink figure skating tour offers a stunningly beautiful display of figure skating. It also serves as a powerful display of inclusion, thanks to the iconic skaters who are warmly welcoming fellow skating stars from Special Olympics into their midst, enthusiastically and wholeheartedly sharing the spotlight. 
Rock The Rink's iconic lineup is comprised of Scott Moir, Tessa Virtue, Patrick Chan, Elvis Stojko, Kaetlyn Osmond, Jeremy Abbott, Carolina Kostner, Tatiana Volosozhar, and Maxim Trankov. The tour has also chosen to welcome a Special Olympics Canada athlete into the cast at each Canadian stop, presenting a solo by the Special Olympics athlete as part of the show. A talented athlete alongside talented athletes. Inclusion at its best. 
The tour kicked off in B.C. in October, and Special Olympics BC's Marc Theriault, Alexandra Magee, Alexander Pang, and Darlene Jakubowski absolutely killed it in the performances in Abbotsford, Penticton, Vancouver, Dawson Creek, and Prince George. Their captivating skating and the lists of their accomplishments opened many eyes to the abilities of Special Olympics athletes.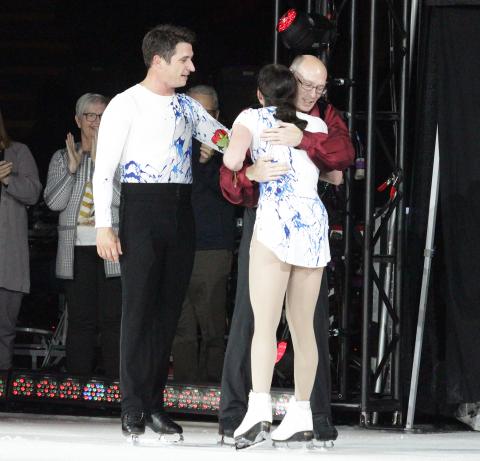 Theriault, a longtime Special Olympics BC – Surrey skater and SOBC Hall of Fame athlete, wowed the crowd in Abbotsford. And he impressed his fellow skating champions with the amount of his accomplishments and the technical difficulty of his routine. Chan is known throughout the figure skating world for his superior skating skills. While practicing alongside Theriault before the show, Chan took note of Theriault's tricky footwork, commending Theriault and his longtime coach Elizabeth Roman.
During each Rock The Rink show, Moir and Virtue, the most decorated ice dancers in Olympic history, speak before the performance of each Special Olympics athlete. While introducing Theriault, Moir made a point of signalling Theriault's significant list of accomplishments. He talked about Theriault's eight World Games appearances in three different sports, while pointing out that Moir and Virtue themselves have appeared in three Olympics.
"Isn't that unbelievable?" Moir said, to impassioned applause. "And folks, he has his sights set on the World Games in 2021 in Sweden."
"Words can't describe how I feel," Theriault said after the Abbotsford show. "It was fun to be able to skate with Scott and Tessa and Patrick Chan and the others, and to be able to practice on the same ice. It's something that I will never forget. It's a moment that I will cherish for the rest of my life."
Pang is a Special Olympics BC – Vancouver skater and a veteran of three World Games in figure skating and basketball. Now a consummate showman on the ice, Pang's joyful Rock The Rink performance at UBC's Doug Mitchell Thunderbird Sports Centre opened many eyes.
"Seeing people's reactions, they were on their feet before Alex was finishing. People came up to Alex after and said 'I didn't know Special Olympics athletes were so talented,'" his longtime coach Jessica Chapelski said. "What an incredible opportunity."
Special Olympics BC – Kelowna's Alexandra Magee, a figure skating medallist at multiple National and World Games and another multi-sport competitor, shone in Penticton. Watch her performance at the South Okanagan Events Centre:
Special Olympics BC – Fort St. John's Darlene Jakubowski, also a medallist in multiple World Games, impressed in the two northern B.C. shows at Dawson Creek's Encana Events Centre and Prince George's CN Centre. She and her abilities attracted a warm response from the crowd and the Rock the Rink skaters alike.
"Working with Special Olympics Canada has been one of the great privileges of our career. It's an organization that is just so close to our hearts," Virtue said while introducing Theriault in Abbotsford.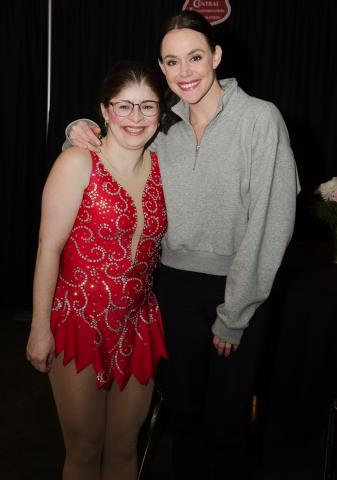 She later told Global News, "Scott and I have been working with Special Olympics Canada for quite some time, and it's obviously something that is just so close to our hearts. I think what we're most excited about is just to share the ice with these incredible athletes and to showcase [them] all the way across Canada, to spread that message of inclusion, to showcase how the impact truly transforms lives of children, youth and adults with intellectual disabilities. We're just honoured to come together and share that across Canada."
Virtue also made a point of commenting on the "mutual admiration" between the Rock The Rink skaters and Special Olympics athletes.
"When you see what [Special Olympics Alberta skater Emma Bittorf] has accomplished, there's a mutual admiration going on here, and that's not just in skating. She's also an avid golfer, a basketball player. It's truly impressive. I just love seeing how Special Olympics has played a part in her life."
To Scott Moir, Tessa Virtue, Patrick Chan, and the whole Rock The Rink tour: Thank you so much. Hearts are so full. Please know you make a difference. Canada, please know they're just as amazing as they seem on TV.
To the Special Olympics skaters: Thank you! You amaze!! You inspire.
To the Special Olympics coaches and families: Nothing is possible without you.
Find your local Special Olympics program and join our joyful community