We are excited to announce that the NCCP Special Olympics Competition Sport Workshop will now be offered virtually as well as in person, to ensure that coaches around the province can complete this crucial training without the barriers associated with traveling.
All Special Olympics BC coaches (except for Active Start and FUNdamentals) are required to complete this certification within their first year of coaching Special Olympics athletes. The workshop helps equip coaches to empower athletes with intellectual disabilities. It covers various associated disabilities, basic delivery of sport skills, sport-specific and competition-based fitness, competition, and safety.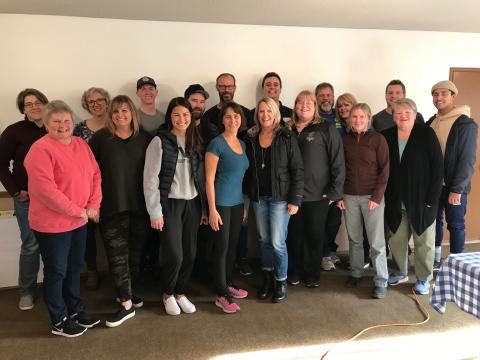 To prioritize accessibility, SOBC will continue to offer this course in-person as well as virtually. The content is the same both in person and online, but the virtual course runs in three 4-hour sessions spread over three days, while the in-person courses are offered as a Saturday full-day and Sunday half-day.
Former SOBC provincial office staff and current volunteer Leslie Thornley has been working with a Special Olympics Canada committee for the past year to make this remote learning opportunity possible for SOBC coaches.
"It's important that we continue to push accessibility. We heard our coaches that have busy lifestyles and understand that traveling to complete this course isn't always possible. At SOBC, we are thrilled to offer coaches this tool" says Thornley.
Special Olympics BC's pilot program for the virtual NCCP Special Olympics Competition Sport Workshop will be held on October 5, 6, and 7, from 5:30 to 9:30 p.m. PT, 
The virtual workshop will be offered again on October 26, 27, and 28, from 6 to 10 p.m. PT, and again on a to-be-determined date. SOBC also plans to host the in-person course in Kelowna and Coquitlam on October 23 from 8:30 a.m. to 4:30 p.m. and October 24 (half day).
If you are a registered SOBC coach and you would like to attend, please contact Lois McNary, SOBC Vice President, Sport, by email at lmcnary@specialolympics.bc.ca or by phone at 604-737-3117.
More virtual and in-person NCCP Special Olympics workshops will be offered this season, with in-person courses coming up throughout the province – stay tuned to SOBC's website, social media, and e-newsletter for announcements of upcoming courses.
Watch for more opportunities and celebrations in National Coaches Week, September 18-26!