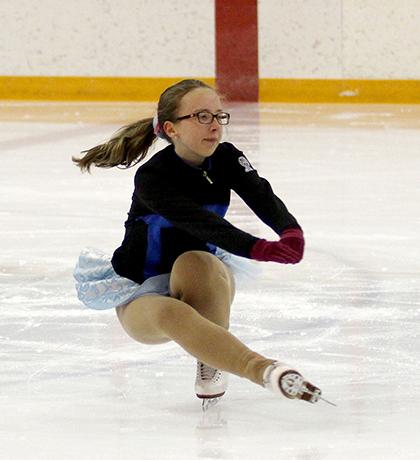 Special Olympics BC athletes and coaches from across the province came together to elevate their performance at SOBC's Figure Skating Performance Camp on October 13 and 14. The camp in Coquitlam covered a variety of topics, including on-ice drills, dryland training, and mental preparation.   
SOBC – Vancouver figure skating coach Jessica Chapelski participated in the event, and says Performance Program camps play a valuable role in helping coaches develop their skills.     
"It's so beneficial to coaches to be able to get together and share ideas, to be able to hear how other people are coaching and working with their athletes, and just to be inspired to work with our athletes in different ways," Chapelski says. 
SOBC's Performance Program is a long-term plan with the goal of enhancing the skills and performance of coaches, and through them all SOBC athletes. The program is not just for elite athletes – it's for coaches who are open to new training techniques, and athletes who are committed to training. Participating coaches and athletes take the skills they learn back to their local programs to benefit all athletes, not just a few. 
Fourteen athletes and 20 coaches attended the event in Coquitlam, which was the first Performance camp of the 2018-19 sport season. Highlights included sessions on technical skills, such as jumps and turns, that were run by experienced SOBC coaches and a workshop on mental preparation with mental performance consultant Sarah Kiengersky. 
In a very memorable moment, Team Canada Olympic figure skater Larkyn Austman visited the camp to do a demonstration and provide some tips to the athletes and coaches.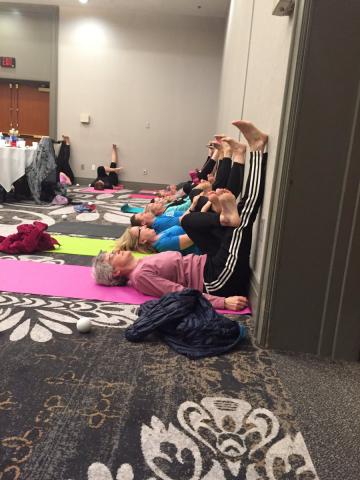 Chapelski says Performance Program camps give SOBC coaches opportunities to build connections with other coaches from across British Columbia.  
"It's so nice to see other coaches and put a face to the name, because we don't often get to meet," she said. "It creates a really strong community of skating coaches, so we can help each other out now that we know each other."
During the 2017-18 sport season, the Performance Program put on the Club Fit Summit in Richmond and a camp for alpine skiing, cross country skiing, and snowshoeing in Sun Peaks. Because the season included national competitions, another focus for the Performance Program was helping Special Olympics Team BC athletes and coaches prepare for competition, and SOBC hosted Team BC training camps for 5- and 10-pin bowling, athletics, basketball, bocce, golf, rhythmic gymnastics, soccer, softball, swimming, and powerlifting.
SOBC – Kelowna coach Shayla McLean took part in the Club Fit camp in March. McLean says she has learned a lot at Performance Program camps, and this has helped her strengthen her Local's Club Fit program. 
"These camps are a huge asset to coaches," McLean says. "I know each year I've walked away with a couple new tricks up my sleeve, a couple new ideas on how to run my program, and I personally have found so far that each year my program gets a little bit better and better based on these new bits of information that I learn."
SOBC coaches and athletes have also been working to elevate their performance at Regional Performance Camps. These camps are hosted by SOBC Locals, and help the Performance Program reach more athletes and coaches throughout the province.  
The 2017-18 sport season saw SOBC – Invermere host an alpine and cross country skiing camp for Region 1 in January and SOBC – Comox Valley hold a floor hockey camp for Region 6 in February.
SOBC – Comox Valley athletics, floor hockey, and softball coach Randy James organized and ran the floor hockey camp.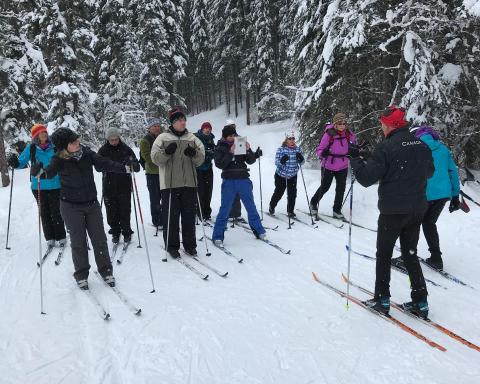 "The benefit in hosting a Regional Performance Camps is it allows the coaches from within the Region to get together, to collaborate, and to learn from one another in terms of the best practices that are going on in their home Locals," he says. 
An experienced SOBC coach of almost 30 years, James says Performance Program camps give him opportunities to share his knowledge and learn some new skills.  
"I as a coach have developed and learned from the other coaches in my Region, and it has allowed me the opportunity – given the years of experience I've had within the sport – to share some of my knowledge and impart that on others, to help grow the sport within their home communities and facilitate the development of not only their coaches, but hopefully their athletes as well."
The 2018-19 sport season will see SOBC athletes and coaches take part in Performance Program camps all across the province in both summer and winter sports. So far, along with the Figure Skating Performance Camp, athletes and coaches attended camps for speed skating and powerlifting in November. January will include camps in alpine skiing, cross country skiing, snowshoeing, and speed skating. Stay tuned for details on other camps!
Significant support from the Government of Canada and the ongoing generosity of SOBC's provincial partners help make the Performance Program opportunities possible.