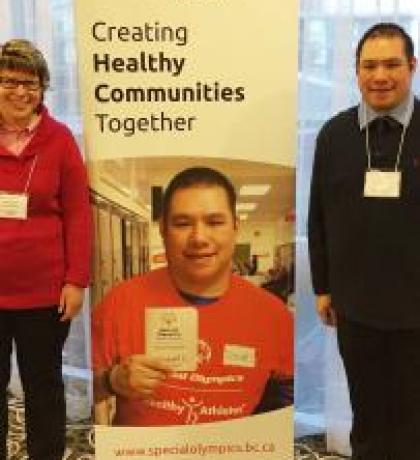 Based on available local and international data, we can see that British Columbians with intellectual disabilities have lower life expectancies, live more sedentary lifestyles, and are hospitalized more frequently than the general population. The impact on their lives, their families, and our health care system is profound. But it doesn't have to be this way.
We can and must address the gaps in our systems to ensure that individuals with intellectual disabilities live longer and healthier lives. We can make a difference and stop letting individuals with intellectual disabilities fall through the cracks and struggle in the shadows. But to do so, key champions of health and people with intellectual disabilities need to work together.
Special Olympics British Columbia firmly believes that B.C. has the necessary resources, expertise, and compassion to become a global leader in health services for people with intellectual disabilities. On February 1, we convened a Champions for Inclusive Health meeting, a conversation with senior representatives from more than 40 impactful organizations to discuss how we can collectively have a profound impact on the health of people with ID.
Athletes Jake Hooper of SOBC – Comox Valley, Paige Norton of SOBC – Abbotsford, and Marinka VanHage of SOBC – Prince George were vital participants in the meeting as they shared their experiences and perspectives alongside coaches/parents Donna Bilous, Region 3 Coordinator, and Wilma VanHage of SOBC – Prince George. Athletes Vincent Li of SOBC – Richmond and Robyn Rauh of SOBC – Vancouver provided great support for participants and the event.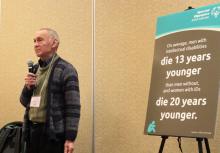 Participants came from an important and wide-ranging group of organizations, including provincial government ministries, health authorities, medical professional associations and advocates, intellectual disability support organizations and advocates, universities and academic researchers, and corporate partners such as Sobeys.
Special Olympics has ramped up our work in health because we have seen how the significant health disparities faced by our athletes affects their sport performance, and their whole lives. Our Healthy Athletes screenings have not only supported athletes to help get the care they need and trained health professionals to work with our population, but have also generated important information about the health of individuals with intellectual disabilities, showing the big disparities and need for change.
We cannot and do not want to pursue change in this important area on our own. We don't want to start a new or separate health care system for people with intellectual disabilities. We want to help the existing system make vital changes to help individuals with ID live longer and be healthier, helping them and their families while saving money in the health care system.
The passion and ideas shown by participants in the Champions for Inclusive Health meeting, and responses to a framework that Special Olympics BC has drafted and circulated to help shape a vision for change, show that key champions are interested in changing the way individuals with intellectual disabilities are treated within the health care system.
In the Champions for Inclusive Health meeting, participants brought important illumination to the issues by sharing their stories, current work, available resources, challenges, and thoughts on the next steps to create change. With many amazing ideas shared, and many expressions of interest to continue to work together on this topic, we are looking forward to seeing the next steps by these champions both together and in discipline-specific working groups.
The milestone meeting was made possible by funding from the Golisano Foundation via Special Olympics International.
Watch the meeting:
Learn more