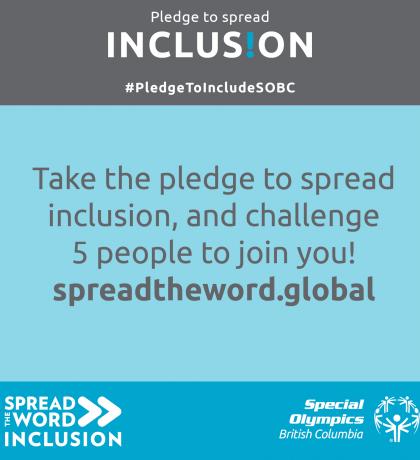 Many B.C. schools and advocates step up to spread kindness and respect using the Spread the Word>>Inclusion campaign. We are so thankful to these champions of positive change!
For those in search of virtual group activities that will make the world a better place, Special Olympics BC has created a Spread the Word>>Inclusion online activation kit. Please contact SOBC Community Development Coordinator Sydney Hall at shall@specialolympics.bc.ca or 250-570-1455 for resources and support.
In May, Surrey student Sanjana Karthik ran a virtual Spread the Word>>Inclusion campaign on her own social media and with organizations for fellow aspiring medical students. Super grateful to Sanjana for helping change the world! 
Sanjana Karthik is a Grade 10 student from Semiahmoo Secondary. She got involved in Special Olympics in grade six, and began volunteering for Special Olympics Sport Start. When she was in Grade 7, she volunteered with 10-pin bowling, and has been supporting the program ever since. She has even completed her NCCP Introduction to Competition course and NCCP Make Ethical Decisions certification. She now hosts annual fundraisers for Special Olympics and participates in the Spread the Word>>Inclusion campaign.
Sanjana believes it is important that we value each and every person in our community. We must highlight each other's strengths, and value what each of us have to offer one another.
She believes that it is up to us to take care of the people in our society, which is why we must address the value of "inclusion" and building a "community."
She believes that her campaign has raised awareness, and perhaps even changed people's mindsets, and the way they treat the people around them.
Currently, she is looking for more ways to get involved with Special Olympics. She offers her thanks to Sydney Hall and Chelsea Rogers, without whom this campaign would not be possible.
Sanjana dedicates her time to volunteering, where she has accumulated over 400 hours and spends time playing badminton and attending choir practice. She tutors, and provides her leadership services to Volunteer Club, Study Circle, and Medhopeful at her school. She reached some of her personal and professional goals by creating her organization called Your Words Matter To Us, co-founding an upcoming mental health app called myEsprit, and creating mental health campaigns through the BC Youth Council. Above all, her passion lies in writing poetry, where she writes for Reclamation Magazine, BC Youth Council, and GenZ Writes. She has had the opportunity to have her work published in various places, and is grateful to say that she has had work read by the Mayor of White Rock, and shared on Radio Bula Masti.