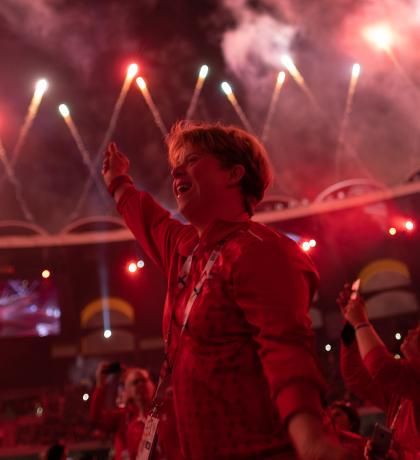 As we celebrate the 50th anniversary of Special Olympics globally, we are taking a look back at the #50moments that have defined the Special Olympics movement here in B.C. and throughout the world.
In the beginning, there were 1,000. On July 20, 1968, 1,000 athletes with intellectual disabilities from the U.S. and Canada marched into Chicago's Soldier Field to make history by competing with pride in the first-ever Special Olympics International Summer Games.
Until the late 1960s, children and adults with intellectual disabilities were shut away from the world. They were isolated at home or in institutions, because society felt they had no skills or talents. That began to change with the first Special Olympics Games at Soldier Field, where athletes began to turn the spotlight on their abilities.
That day, a seed was planted in the hearts and minds of the athletes, families, volunteers, and the public. That one-time competition became the global Special Olympics movement with empowering year-round sport programs for individuals with intellectual disabilities of all ages in a range of summer and winter sports.
Those first 1,000 athletes planted the seeds for thousands and millions more athletes with intellectual disabilities all over the planet to thrive through the power and joy of sport.
Thirteen years ago this month, the movement reached a critical growth milestone. Special Olympics globally had set a goal of doubling the number of athletes worldwide, and in May 2006, that goal was crushed as the organization grew to involve 2.5 million athletes worldwide.
It took 40 years for Special Olympics to reach 2.5 million athletes. In the last 13 years, from 2006 to today, Special Olympics doubled again. Today, this inclusive movement of joy and empowerment through sport reaches more than 5.1 million children and adults with intellectual disabilities in 174 countries.
Today, the millions of Special Olympics athletes worldwide open hearts and minds to the abilities of individuals with intellectual disabilities, leading the way to a new world of inclusion and respect.
While we have grown, there is still so much farther to go. Global estimates indicate that approximately one per cent of the population has intellectual disabilities, which means that while Special Olympics BC currently involves more than 4,800 athletes province-wide, there could 50,000 people with intellectual disabilities yet to be reached.
So we encourage everyone to spread the word about the opportunity to have fun, play sports, improve health, feel part of a community, and change the world with Special Olympics! Please click here to find out how to get involved