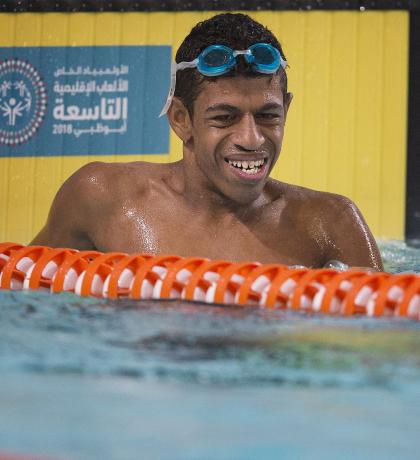 As we celebrate the 50th anniversary of Special Olympics, we are taking a look back at the #50moments that have defined the Special Olympics movement here in B.C. and throughout the world.
Special Olympics Middle East and North Africa (MENA) is one of the seven Special Olympics International regions, comprising of all 22 Arab countries, members of the Arab League plus Iran. Today all eyes are on Special Olympics MENA as the region prepares to host their first Special Olympics World Games with the 2019 World Summer Games in Abu Dhabi and Dubai. Back in 1999, the region hosted their first-ever Special Olympics MENA Games, providing a powerful showcase for the abilities of the athletes.
The 1999 Special Olympics MENA Games involved 210 athletes and were hosted in Egypt. Egypt went on to host more Special Olympics MENA Games, including in 2014 when the competitors hailed from 15 countries and the event was viewed as an example of the power of sport and Special Olympics overcoming the strife of a war-stricken region.
Special Olympics programs and Games turn the spotlight on the abilities of individuals with intellectual disabilities as well as their rights.
"These players are part of the Egyptian society and they have equal rights that should be taken care of," Egyptian Minister of Sports Khalid Abdel Aziz said in 2014. 
Read Egypt Today's 2018 story about Special Olympics bringing individuals with intellectual disabilities to centre stage to be respected and included 
Abu Dhabi hosted the MENA Games first in 2008, then for a second time in March 2018. The 2018 Special Olympics IX MENA Games were the biggest MENA Games ever to take place with over 1,000 athletes from 31 countries – MENA plus nations from other regions – competing in 16 sports.
Today there are Special Olympics Middle East North Africa programs in Algeria, Bahrain, Comoros, Djibouti, Egypt, Iran, Iraq, Jordan, Kuwait, Lebanon, Libya, Mauritius, Morocco, Oman, Palestine, Qatar, Saudi Arabia, Sudan, Syria, Tunisia, the United Arab Emirates, and Yemen.
And now more than 7,500 Special Olympics athletes from more than 190 nations are making final preparations to participate in the Special Olympics World Games taking place in the UAE's Abu Dhabi and Dubai from March 14 to 21.
World Games are the largest sports and social inclusion event on the planet—demonstrating to the world that people with intellectual disabilities are the greatest teachers and leaders of inclusion. The first World Games in the Middle East and North Africa region, the event will be a showcase of a world of full inclusion for people with ID in sports, education, health, and leadership.
"Special Olympics World Games are a snapshot of the world of full inclusion for people with intellectual disabilities yet to be achieved—and an invitation to everyone to join our athletes as they lead an all-out effort for more inclusion and to end the fear of difference everywhere," says Dr. Timothy Shriver, Special Olympics Chairman.
Learn more about the B.C. athletes, coaches, and mission staff set to participate in the 2019 Special Olympics World Summer Games